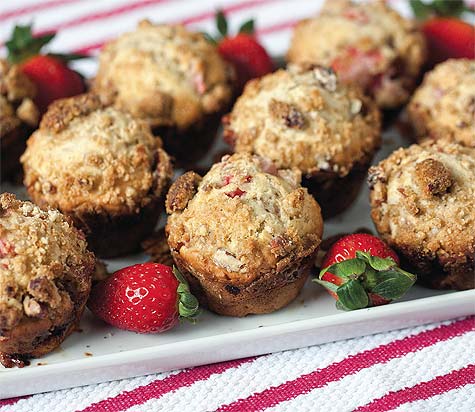 From Texas Blossoms by the Richardson Woman's Club,
richardsonwomansclub.com, Photo by Kelly Yandell
For Muffins:
1 ½ cups fresh strawberries, coarsely chopped
¾ cup sugar, divided
1 ¾ cups flour
½ teaspoon baking soda
¼ teaspoon freshly grated nutmeg
¼ teaspoon salt
2 eggs, beaten
4 tablespoons butter, melted
1 teaspoon vanilla extract
For Streusel Topping
½ cup chopped pecans
½ cup packed brown sugar
¼ cup flour
2 tablespoons butter, melted
Makes 12 regular or 24 mini-muffins
Preheat oven to 425°F.
In small bowl, combine strawberries and ½ cup sugar. Set aside for 1 to 2 hours. Drain and reserve liquid and strawberries separately.
In small bowl, combine flour, baking soda, nutmeg and salt and set aside. In medium bowl, mix eggs, butter, vanilla extract, the remaining ¼ cup sugar and liquid from strawberries. Add flour mixture and stir just until combined. Fold in reserved strawberries. Spoon into greased muffin tins.
For topping, mix together pecans, brown sugar, flour and butter. Sprinkle over each muffin.
Bake for 10 to 12 minutes or until muffins test done.
The Richarson Woman's Club is the author of TEXAS BLOSSOMS. More information may be found at richardsonwomansclub.com.