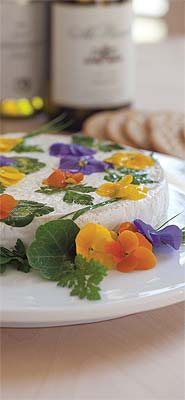 Photo by Kelly Yandell
By Trixie Bond, former Master Gardener,
Fort Bend County
Brie strewn with organic edible flowers makes a lovely presentation. Our edible display includes organic violas, pansies, nasturtium leaves, garlic chives, chervil leaves and flat-leaf parsley artfully arranged on a large round of Brie from Brazos Valley Cheese in Waco. This velvety aged cheese was an award winner at the prestigious American Cheese Society competition in Montreal last summer. Though normally eaten at room temperature, this recipe calls for the cheese to be cool when served.
Number of servings depends on size of Brie
Round (or wedge) Brie cheese
1 cup dry white wine
1 package unflavored gelatin
Organic edible flowers and herbs, washed (See notes below)
Pour wine into medium saucepan. Sprinkle gelatin over wine and let rest for five minutes. Place saucepan on burner and gently heat wine/gelatin mixture until gelatin dissolves. Remove pan from heat and cool to room temperature. (May place in refrigerator to speed process, but be careful not to let the mixture gel.)
Place Brie on a small cooling rack. With a clean pastry brush, brush a light coating of the wine/gelatin mixture over the Brie and then begin arranging your flowers and herbs. Once the design is complete, gently brush over it with another light coating of gelatin mixture. Place decorated Brie in the refrigerator for at least five minutes or until the glaze is firm. Brush four more coats over the cheese, chilling in between each glazing. Serve with ginger snaps and sliced apples on a tray or plate strewn with more fresh petals and herbs.
Notes:
Edible pansies, violas, rose petals, nasturtiums, marigold petals, dianthus, gladiolus florets, herbs and herbal blooms are ideal choices. They MUST be organically grown without the use of pesticides. Your best source is your own organic garden or a grocery store or garden center that offers certified organic flowers.
If possible, pick flowers in the morning because that is when their water content is the highest and they are pleasingly plump. Shake off any dirt or insects and immerse the blooms in a basin or bowl of cool water. Drain on paper towel, pat dry. Use immediately or store in refrigerator hydrator drawer layered between paper towels. Use only the petals – not the pistils or stamens. The white base of some flower petals has a bitter taste so snip off the white portion of these petals.
When preparing the Brie more than 6 hours in advance, use the light-colored flowers. Dark burgundy and deep purple colored pansies have a tendency to bleed.