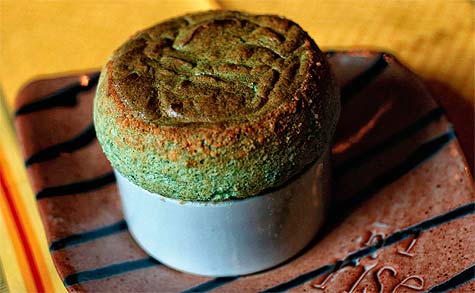 The spinach soufflé is a clever way of introducing greens into a child's diet and a satisfying way for adults to fit in their daily requirement too.
Yields six individual soufflés
6 ounces butter, divided
½ cup grated Parmesan, divided
½ cup white flour
2 cups whole milk
Salt to taste
White pepper to taste
½ teaspoon nutmeg, divided
½ cup grated Swiss cheese
3 egg yolks
¼ cup chopped shallots
1 tablespoon chopped garlic
1 ½ pounds spinach (about 6 cups)
18 egg whites
Preheat oven to 375 degrees.
Butter 6 12-ounce ramekins to the top with 2 ounces butter. Using a rolling motion, coat ramekins with ¼ cup Parmesan. Set aside.
To make the roux, melt 2 ounces butter in a large pot over medium heat. Add flour and stir. Reduce heat to low. Cook for 2-3 minutes, stirring. Remove from heat to cool down.
To make the soufflé base, in a different saucepan, bring milk to a boil. Add salt, white pepper and ¼ teaspoon nutmeg.
Pour hot milk slowly into the roux. Bring back to a boil, stirring constantly for about 2 minutes, until the mixture thickens. Turn off the heat and keep stirring until the mixture thickens further. Add Swiss cheese, ¼ cup Parmesan and egg yolks and stir.
To make the spinach puree, melt 2 ounces butter over medium heat in a large pot. Add shallots, garlic, salt, white pepper and ¼ teaspoon nutmeg. Stir until shallots and garlic are translucent. Add spinach and cook until wilted, about 3-5 minutes.
Pour the mixture into a food processor and blend until smooth. Combine the puree and the soufflé base. Make sure the mixture stays warm. This will help the soufflés rise.
In the bowl of an electric mixer, beat egg whites to soft peaks. The egg whites must have risen to peaks before you can combine with the warm mixture. Add the warm mixture and stir in the mixer.
Pour the mixture into ramekins, filling to the top. Keep edges of ramekins clean. Place soufflés on lowest rack of oven. Leave 6-8" space above the ramekins to allow soufflés to rise. Bake for 20-25 minutes. Tops of soufflés should be browned.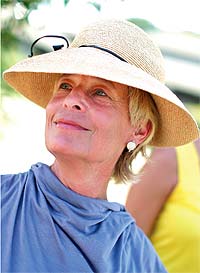 From RISE TO THE OCCASION: A FRENCH FOOD EXPERIENCE by Hedda Gioia Dowd, Cherif Brahmi, and Celine Chick, (c) 2011 by Rise IP Holdings, LLC used by permission of the publisher, Pelican Publishing Company, Inc
"For a long as I can remember, food has been the center of my universe. One of my earliest and fondest memories is climbing a cherry tree in my grandparents' grove in France, sitting on a branch, picking my first pair of ruby earrings—red cherries—and placing them ever so carefully
around each one of my ears. I moved my head from side to side just to feel the heaviness of the fruit against my skin. As I climbed down the tree to show them off to my family, I wondered how long they would last before I would devour them and all I had gathered in my pockets." – Hedda Gioia Dowd, co-owner of rise nº1
Excerpted from her new cookbook, Rise to the Occasion: A French Food Experience, written with Chef Cherif Brahmi and Celine Chick. Photography by Courtney Perry. risesouffle.com
Hedda Gioia Dowd is the author of the cookbook RISE TO THE OCCASION: A FRENCH FOOD EXPERIENCE, written with Chef Cheif Brahmi and Celine Chick.