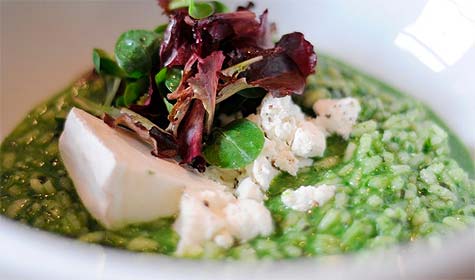 Photography by: Elliot Muñoz
Submitted by Chef Graham Dodds of Bolsa in Dallas.
www.bolsadallas.com
Local ingredients: Spinach from Paul Quinn College, Texas Olive Ranch olive oil, goat cheese from Caprino Royale. Makes 8 servings.
For the risotto
4 ½ cups chicken stock
2 tablespoons Texas Olive Ranch olive oil
1 tablespoon butter, unsalted
1 large yellow onion, peeled and diced small
2 ⅔ cups Arborio rice
1 cup white wine
Salt and pepper, to taste
For the spinach
9 tablespoons butter, unsalted
Texas Olive Ranch Olive Oil as needed
1 clove garlic, minced
Whole nutmeg
5 ½ ounces Paul Quinn spinach, washed & dried
Salt and pepper, to taste
½ cup grated Parmesan cheese
8 ounces crumbled Caprino Royale goat cheese
3 cups chicken stock
To cook risotto
Bring 4 ½ cups chicken stock to a boil. Heat large pot with olive oil. Add butter and sauté onions gently until soft but not browned, about 10 minutes. Add Arborio rice and turn up heat. Stir constantly until rice is toasted.
Add white wine all at once, stir until wine evaporates and cooks into the rice. Add boiling chicken stock one ladle at a time, stirring constantly and waiting until liquid is absorbed to add the next ladle. Turn down heat and cook slowly.
This will take about 15 minutes for the rice to become al dente. Pour rice out on a sheet pan, spreading out not more than 1 inch thick and allow to cool slightly.
To cook spinach
Heat a large saucepot until medium hot. Add butter and enough oil to sauté. Add garlic and spinach.
Grate in a fair amount of nutmeg. Season with salt and pepper. Sauté until spinach wilts.
Put the spinach into a food processor and puree.
Put half the stock in a large pot and add cooked rice. Stir around, add more stock if needed- being careful not to overcook the rice.
Stir in spinach puree, butter and Parmesan and season to taste. Sprinkle the goat cheese on top and serve immediately.