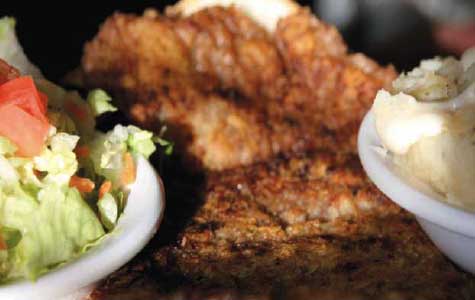 If you're in the habit of tracking down good food, you'll want to know about Mary's Café in Strawn, Texas. Spring in Texas and the skunks were out in full force and spreading their seasonal scent as we wound our way across the state. But this reminder of spring was completely forgotten when we came upon the heady aromas emanating from Mary's kitchen. My Creative Director, Bambi Edlund and I discovered this amazing place on a recent road trip through Texas, and we are eager to share the details with fellow road-foodies.
Put the road trip on pause at Mary's for a steaming platter of chicken fried steak with homemade mashed potatoes, cream gravy and an iceberg lettuce salad, just enough to count for a serving of something green. Top it off with a frosty mug of Shiner Bock beer, (Spoetzl Brewery in Shiner, Texas, established in 1909) and your senses begin to sizzle like a steak on a grill. All the locals know the café as the place to get chicken fried steak. We were there for a late lunch/ early dinner, so the café was not crowded yet, but two more groups of people arrived and ordered. No menus were needed, as they knew exactly what they wanted. There are three dining areas and we were told that frequently the line snakes outside the door.
The steak platters come in three different sizes, presumably for three different appetites. This brought back memories of a place I used to eat as a kid in Frontenac, Kansas, Chicken Annie's and its nearby neighbor Chicken Mary's. Annie's meals came in 3 sizes as well and involved 1, 2 or 3 pieces of chicken. Bambi and I agreed that if we were locals, we'd order the large and have leftovers for later.
Chicken fried steak could be described as the pièce de résistance of Texas food culture and it was heaven for these weary travelers. As the literary equivalent of the final chapter, the art of this chicken fried steak satiated our stomachs with the local Texas food culture and lubricated our spirits for the road ahead.
As Larry McMurtry writes, "Only a rank degenerate would drive 1500 miles across Texas without eating a chicken-fried steak". Being the most solid of citizens, we traveled a great distance on that Texas day to that Texas moment.
Mary's Café
119 Grant St.
Strawn, Texas