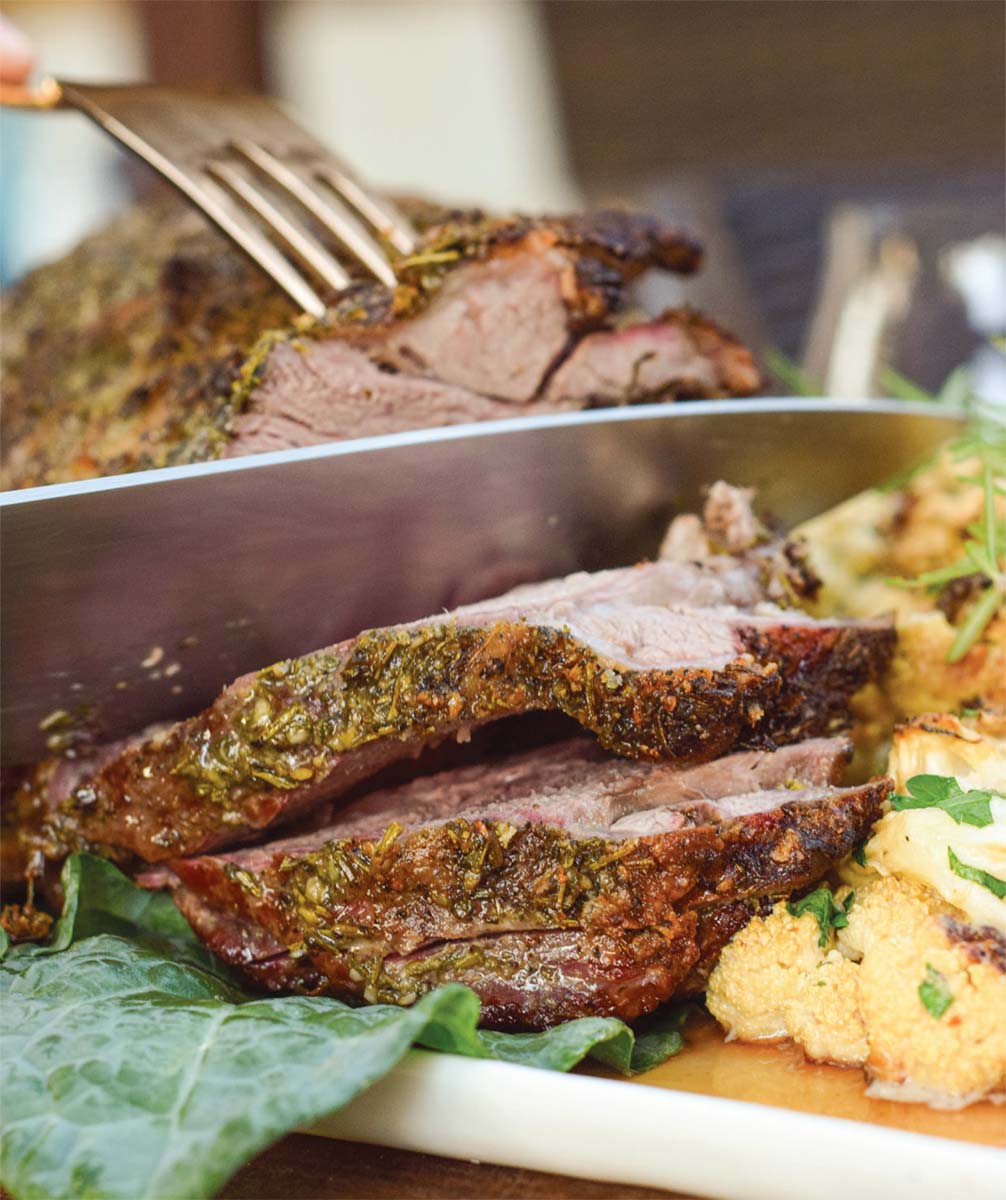 While most holiday dinner tables feature turkeys or hams, we opt for a leg of lamb. It doesn't require any brining or marinating and cooks in 2-3 hours, ideal for an easy family meal.
Makes 6-8 servings
6 sprigs fresh rosemary
1 cup fresh mint leaves
10 garlic cloves
¼ cup olive oil
5-7 pound bone-in leg of lamb
2 tablespoons Kosher salt
2 teaspoons black pepper
Preheat oven to 500°. In a food processor combine rosemary, mint, garlic and olive oil. Pulse briefly until everything is well incorporated into a paste and set aside.
Season lamb with salt and pepper, then thoroughly rub lamb with herb and garlic paste. Cover with foil and roast for 30 minutes. Remove foil and reduce oven temperature to 375°. Cook lamb for another 60-90 minutes or until internal temperature reaches 120-125° for medium rare or 140-145° for medium well. While lamb is roasting, prepare cauliflower.
½ cup tahini
2 lemons, juiced
2 garlic cloves, grated or finely minced
1 teaspoon Kosher salt
½ teaspoon black pepper
1-2 tablespoons water
2 heads of cauliflower, cut into small florets
¼ cup olive oil
In small bowl, whisk together tahini, lemon juice, garlic, salt and pepper. Add water as needed to thin out sauce and set aside. On a parchment covered baking sheet or silicone baking mat, toss cauliflower florets with olive oil. Roast at 375° for 25 minutes or until starting to brown. Remove from oven and pour tahini sauce over cauliflower. Return to oven and bake for an additional 5 minutes. Serve on platter with roasted lamb.
Blog: The Migoni Kitchen - We are a family of 3 who share a love of cooking inspired by our diverse family backgrounds. Follow us on Instagram and Facebook @TheMigoniKitchen.