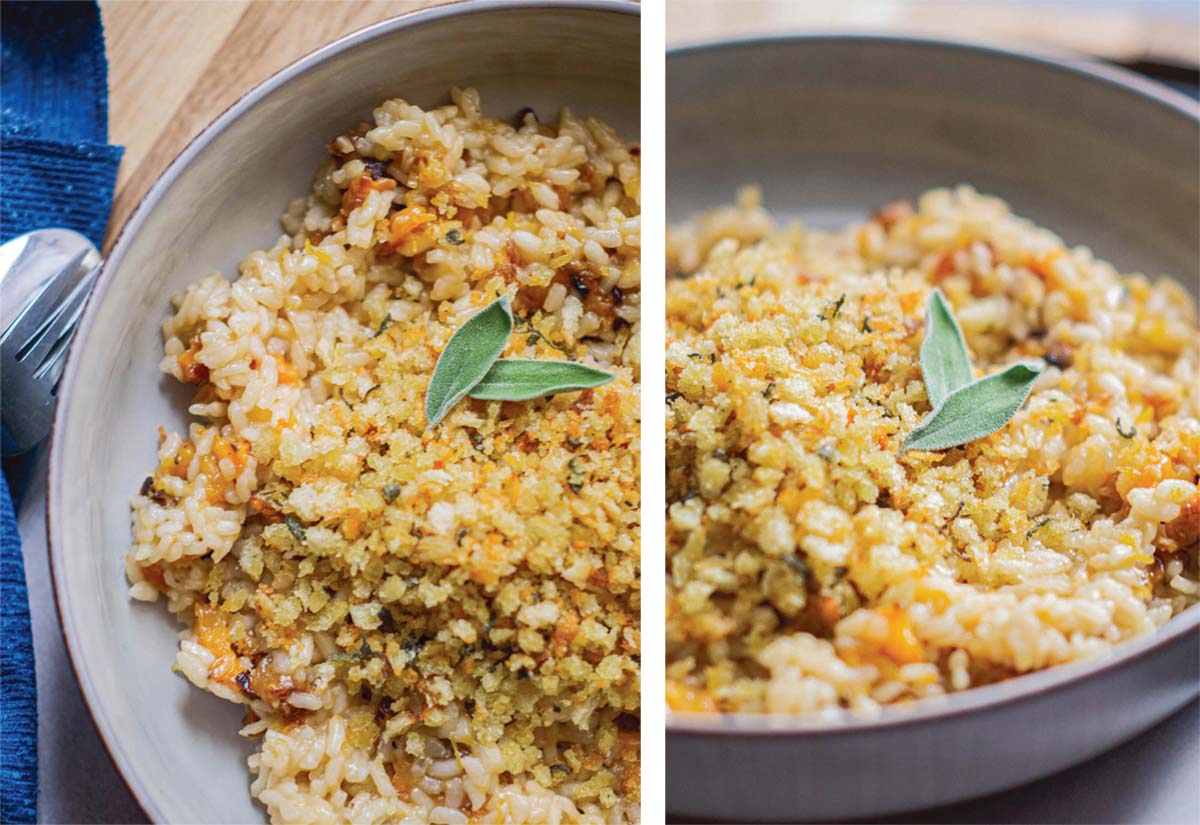 This vegan butternut squash risotto with sage breadcrumbs is a creamy, delicious meal. Bursting with seasonal ingredients and flavors, you'll relish the time spent making it.
Makes 4-6 Servings
FOR THE VEGAN PARMESAN:
½ cups raw, unsalted cashews
¼ teaspoon garlic salt
2 tablespoons nutritional yeast
Combine cashews, salt and nutritional yeast in a food processor and pulse until everything is incorporated. Store this "vegan Parmesan" in refrigerator until ready to use.
FOR THE SAGE BREADCRUMBS:
1 ½ cups cubed baguette
5-6 fresh sage leaves
¼ teaspoon garlic powder
1 tablespoon olive oil
In a blender or food processor, combine and pulse the bread, sage and garlic until mixture is the texture of coarse sand. Heat oil over medium heat in skillet and add breadcrumbs. Stir occasionally until breadcrumbs are toasted, then remove from heat and set aside.
FOR THE RISOTTO:
2 cups peeled and cubed butternut squash
3 tablespoons olive oil, divided
Salt and pepper (to taste)
5-6 cups vegetable broth
1 cup leek, diced
1 tablespoon fresh garlic, minced
2 cups Arborio or short grain rice
¹⁄³ cup dry white wine or white cooking wine
Preheat oven to 400°. Spread squash cubes evenly on a parchment lined baking sheet and drizzle with 1 tablespoon olive oil. Sprinkle with salt and pepper. Bake for 30-35 minutes until lightly browned and cooked through.
Pour vegetable broth into a medium saucepan and heat over medium/high heat. Do not bring to a boil, but once broth is very warm, turn heat to low. Keep broth warm in the saucepan for the remainder of the cooking process.
Heat 2 tablespoons olive oil over medium heat in large pan or skillet. Once hot, add leeks and fresh garlic and saute until translucent and fragrant. Add the uncooked rice and stir occasionally until the rice is toasted and you hear it crackling (about 2 minutes). De-glaze pan by scraping the bottom with a spoon while pouring in white wine. Stir frequently until liquid is absorbed.
Pour a ladle of warm veggie broth into risotto pan with heat set to low/medium and stir occasionally until all liquid is absorbed. Repeat adding broth and stirring, one ladle at a time. Continue occasionally stirring until rice is completely cooked with a creamy, semi-firm texture. Fold the squash, vegan Parmesan and breadcrumbs into the risotto mixture. Serve immediately and season with salt and pepper.
Blog: Baumass Foods - Hilaire Baumgartner inspires families to eat more plant-forward food through her recipes at Baumassfoods.com. Also find her on Instagram and Facebook @BaumassFoods.