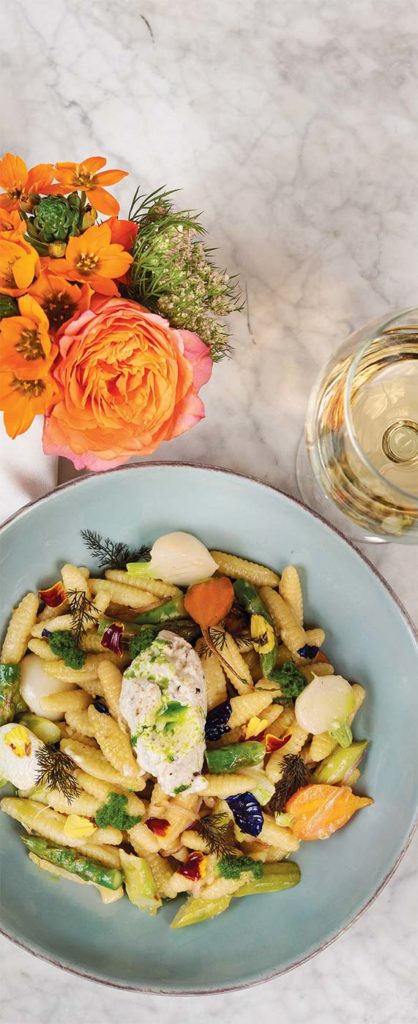 Serves 4 to 6
5 cups semolina flour
2 ¾ cups hot water
1 ¾ teaspoons salt
Spring vegetables equal to 1 ½ pounds (1 bunch baby turnips, asparagus, Thumbelina carrots, sugar snap peas) cut into bite-size pieces
3 cloves garlic, minced
4 ounces ricotta
Dukkah spice* (this Egyptian nut and spice mix, fragrant with sesame seeds, nuts, fennel and cumin, can be made from scratch or found online or at Central Market)
Verjus beurre blanc**
Method: In a stand mixer, add semolina. Bring water and salt to a boil. Immediately pour water into mixer in a slow stream while running on low speed. Mix until a ball forms, then knead an additional 5 minutes. Remove from mixer and wrap up. Chill in fridge and reserve for later cutting.
After chilling, gently roll hunks of cavatelli dough with the back of a fork to create long noodles, dime-size in diameter. Cut into pieces the size of a fingernail and roll individually along the back of the fork to make ridges in each little dumpling. Bring a pot of salted water to boil. Drop the cavatelli in boiling water, stirring to avoid clumping together. Once they float, set a timer for 2 minutes, then remove and cool on an oiled baking sheet.
In a sauté pan, heat a small amount of oil of choice on medium heat. Add the carrots and turnips and sauté 12 minutes, stirring every few minutes. Add peas and asparagus and sauté another 4 minutes. Add cavatelli and minced garlic and toss to incorporate. Season with salt and pepper and transfer to a large serving dish. Ladle beurre blanc over the top and gently toss to coat. In a small bowl, mix ricotta with a few spoons of dukkah spice. Place a mound of ricotta atop the pasta or on the side to garnish individually.
*For dukkah spice mix: ¼ cup pistachios, 1 tablespoon each of pine nuts, coriander seeds and cumin seeds, one teaspoon each of cumin seeds and salt, ½ teaspoon black pepper, and olive oil to mix. In 350°F oven, toast nuts together for 5 minutes. On a separate sheet, toast seeds together for 5 minutes. Grind seeds in a food processor, then add nuts. Pulse till coarsely ground. Reserve and add olive oil when needed to make dip.
**For the verjus beurre blanc: In a medium pot, place a scant ½ cup verjus (or white wine vinegar), 1 garlic clove, smashed, 2 tablespoons minced shallot, 4 sprigs thyme, and 1 bay leaf. Bring to a boil and turn down to simmer. Reduce to a syrup consistency. Add ¼ cup heavy cream and reduce by half. Turn heat to low and slowly add ¾ cup cold, cubed, unsalted butter, whisking to emulsify between small batches. Finish with salt and strain. Keep in a warm area until needed.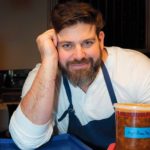 Chef Joel Orsini was born in Houston and trained at the Culinary Institute of America in the Hudson Valley. He was the creative mind behind the restaurant in Deep Ellum first known as Izkina and then Booty's; and now brings a seasonal no-waste ethos to Parigi in Dallas.