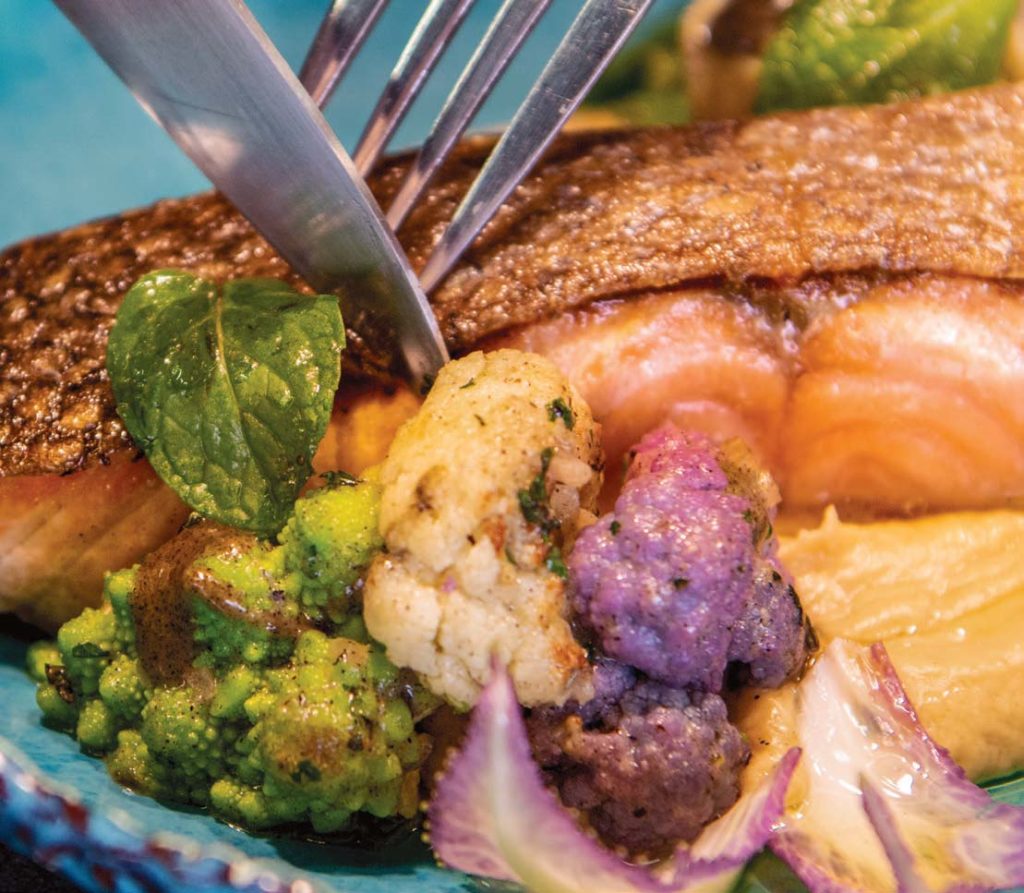 While we are frequently reminded that vegetables have growing seasons, we often forget that fish follows a similar cycle. From the months of March to early November, you can find several varieties of salmon in markets around the US. I chose Ora King Salmon, not only because it is in season and super tasty, but also because it is one of the most sustainably resourced fish.
Makes 4-6 servings
For Cabbage Purée:
1 head of green cabbage, shredded
3 shallots, sliced
2 garlic cloves, minced
4 tablespoons butter, diced
1 pint heavy cream
2 tablespoons canola oil
For Roasted Cauliflower:
¹⁄³ lbs. white cauliflower, diced
¹⁄³ lbs. purple cauliflower, diced
¹⁄³ lbs. Romanesco, diced
3 tablespoons extra-virgin olive oil
¼ cup chopped parsley
¼ cup chopped chive
¼ cup chopped mint
For Scallion Vinaigrette:
1 bunch scallions or spring onions
2 tablespoons Dijon mustard
¼ cup sherry vinegar
Juice of 1 lemon
1 garlic clove
4 tablespoons honey
2 pinches of black pepper
2 cups extra-virgin olive oil
For Salmon:
Salmon fillets, skin on (¹⁄³ – ½-pound per person)
1 tablespoon canola oil
Prepare vegetables first and the salmon just before serving. When ready to serve, spoon cabbage purée onto plate and top with cooked salmon. Arrange the roasted cauliflower around the sides and spoon the reserved vinaigrette over the entire dish.
Make Cabbage Purée: In a large sauté pan on medium heat, add oil and cook shallots just until they become translucent. Before shallots begin to brown, add cabbage in batches, so that you don't crowd the pan. Once all the cabbage has wilted, add garlic and butter, cooking until the cabbage has begun to turn light brown. Quickly add in cream and cook the mixture for an additional 40 minutes, or until the cabbage has thoroughly softened. Place mixture into a blender or food processor and blitz until smooth. Set aside.
Make Roasted Cauliflower: Preheat oven to 450°F. In a large mixing bowl, add diced cauliflower and olive oil and toss with two pinches of salt. Spread the cauliflower on a sheet tray and place in the oven for 15-20 minutes or until it begins to brown on the edges. In a bowl, toss cauliflower with 3 ounces of vinaigrette (recipe below) and chopped herbs.
Make Scallion Vinaigrette: Char scallions in a pan or preferably on a grill, turning until char marks have been achieved on both sides. Using a blender or food processor on a medium setting, blend the charred scallions with mustard, vinegar, lemon juice, garlic, honey and black pepper. Once blended, slow the speed of the processor and pour in the olive oil, blending until all ingredients have been thoroughly incorporated. (The lower speed will ensure that the mixture emulsifies.) Once emulsified, season with salt to taste. Toss roasted cauliflower in three ounces of vinaigrette. Remainder will be poured over the entire dish when plating with salmon and caramelized cabbage.
Make Salmon: Pat dry fillets and bring to room temperature, 15-30 minutes. (Drying helps achieve a crispy skin. Salting beforehand also draws out moisture.) Add oil to a nonstick pan over medium heat. Place fish in pan, cooking skin-side first. For 5-10 seconds, press with a wide spatula to prevent curling. Cook until done, 3 minutes per side for medium-rare to medium.
Born in Manipur, India, Rinmachui "Chui" Kaping was seven months old when his father enrolled in the Perkins School of Theology at SMU and brought his family to Dallas. A graduate of Lake Highland High School, Chui got his start working as a line cook and in management at Rusty Taco and then at Start Restaurant. These days Chui cooks at the Rosewood Mansion on Turtle Creek where he enjoys working with Executive Chef Sebastien Archambault. One day he hopes to have own restaurant.