Photography Teresa Rafidi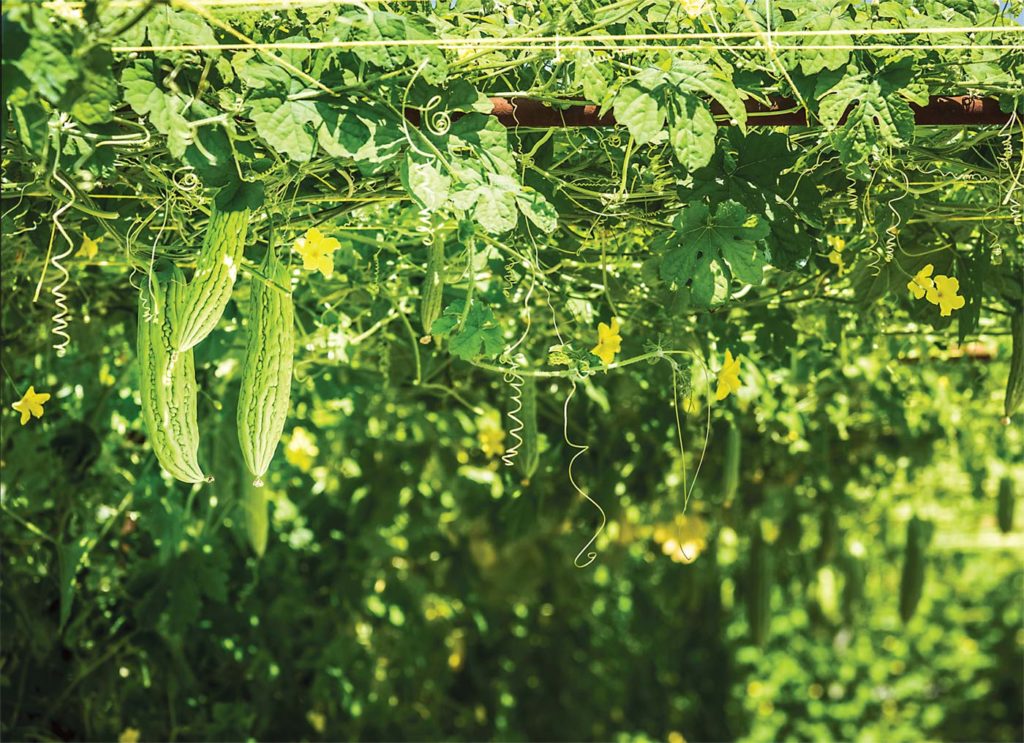 Antonio Ranch
The family behind Antonio Ranch is putting down roots in DFW and growing a diverse range of crops for North Texans craving fresh Asian, Middle Eastern and African flavors. Anthony Vu, the 32-year-old owner and manager along with his wife, two sisters, mother and father are cultivating this community in Joshua, Texas.
"My parents were coffee, tea and cut flower farmers in Vietnam. We, the children, grew up helping them with farm chores and some harvesting and processing when we could. It's a pleasant life as we often now look back," says Anthony.
With the desire to learn the newest sustainable farming practices, Anthony and his younger sister Celine moved from Baloc, Vietnam to Pullman, Washington to study at Washington State University. The university has one of the country's leading programs for organic and sustainable agriculture.
They both graduated in 2017, Celine with a degree in agriculture and food security, and Anthony with a focus on organic agriculture. Each family member brings diverse real-world experiences, special skills and personalities that have been essential to their farm-to-market operation's success.
"We all harvest and pack vegetables together. We all have fairly equal work share and responsibility. It's the perfect combination of the five of us that keeps us going. We would not be as comfortable farming as we have been without any one of us six," says Anthony.
Quyen, the family patriarch, who is an excellent small engine mechanic, also works with crop planning, tilling and prepping the soil. Mom, Hong, helps Anthony with sales and keeps the team organized. Celine's focus is in the greenhouse, as an expert with organic pest management. Diamond, Anthony's other sister and his wife, Uyen, work harvesting and packing produce. In addition to helping his dad with physical work around the farm and researching new crops and production methods, Anothony markets and delivers their harvest all around the DFW metroplex.
The newest Vu to join in on the family business is Anthony and Uyen's two-month-old daughter, who in between naps and feedings spreads joy throughout their 10-acre homestead.
Like many farming families, the Vu's determination and resiliency have been grown through seasons of figuring out how to adapt to challenges.
"We originally wanted our produce to go directly to the consumers, just like the farm-to-table and farmer's market models," says Anthony.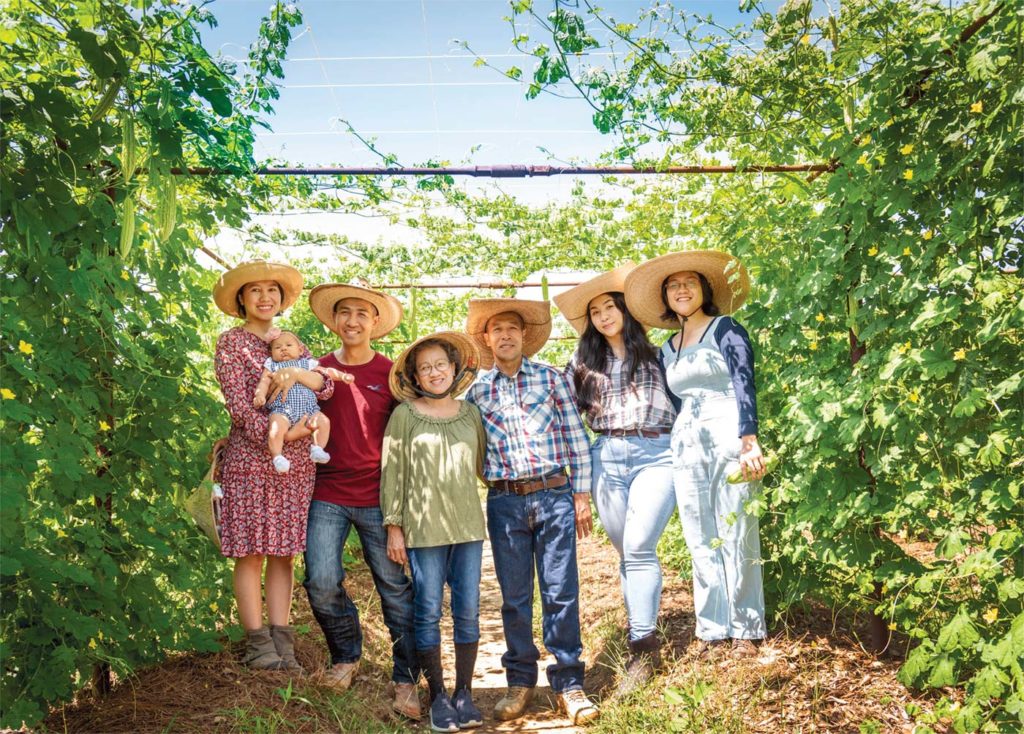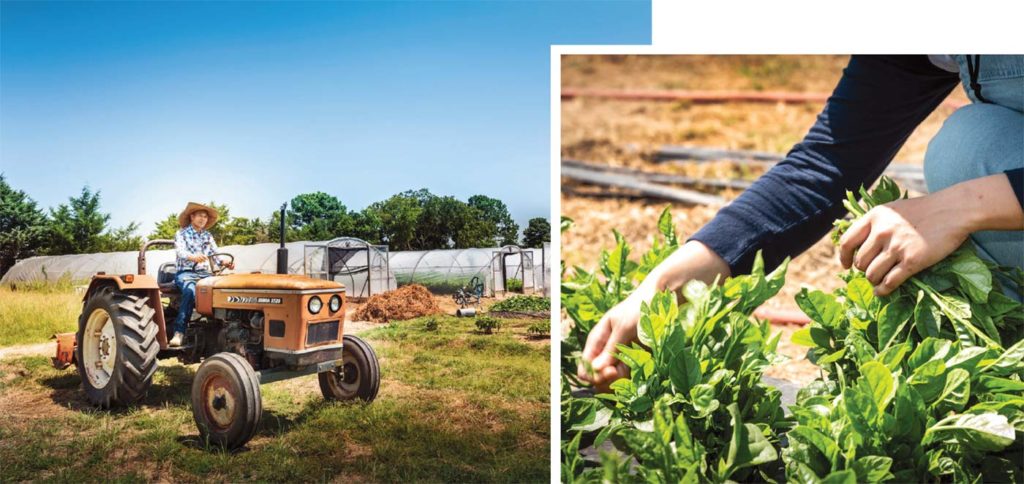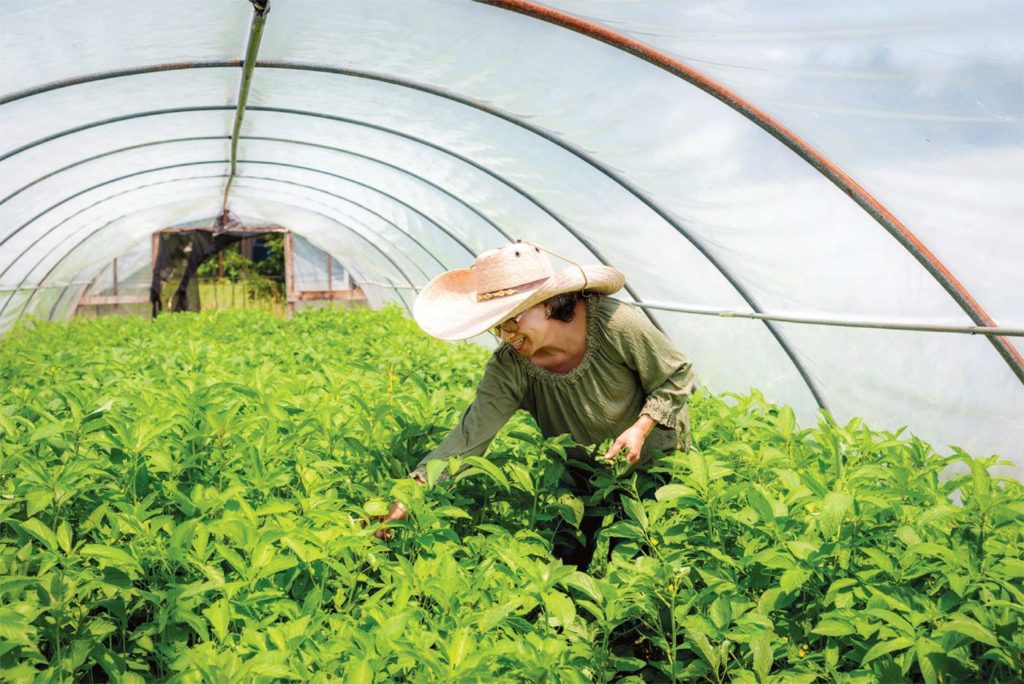 As a budding operation, Anthony swapped out his farming attire for a dress shirt and slacks and visited area businesses, including nail salons, to market their farm, giving free samples of their freshest greens. While that method was successful to help garner community awareness, they remained flexible, eventually growing relationships with established grocery stores, small markets and restaurants to increase sales volume.
"We still sell directly to some nail salons, other businesses and households when they give us a big enough order. But the bulk of our production goes to Asian, Middle Eastern and African markets," says Anthony.
Although Antonio Ranch is not certified USDA Organic, they use those guidelines as their model for production.
"We hack our insects' life cycle by transplanting healthy and rather mature transplants, and we use neem oil, citrus oil and other OMRI (Organic Materials Review Institute) supported products for our insect pests when necessary," says Anthony."We apply very heavily cow manure compost from Green Cow Compost (Dublin), kelp, fish emulsion and some chicken litter compost."
To avoid spraying chemical herbicides, the Vus use conservation-based tillage and mulching (plastic, hay and grass clippings) in addition to a lot of family time hand weeding.
"We personally think eating healthy, fresh and delicious food, especially vegetables, plays a really important role in preventing cancers and other diseases. We want this for our family and we want this for our local community as well," says Anthony.
"For our farm, the greenhouse helps with germinating our seeds and tending for small seedlings and our hoop houses are great for extending the growing season longer into the fall, winter and early spring," says Anthony. "We have experimented with various crops and markets and now are growing vegetables that cater to two main groups of consumers. The first group is health-conscious consumers, growing dandelion greens, moringa, Malabar spinach and various medicinal herbs."
"The other is Asian, Arabic and African markets where we grow jute mallow, ong choy, sweet potato greens, fuzzy squash, white eggplant, African garden eggplant, bitter melon, bitter leaves, collard greens, kale and Swiss chard," he adds.
Antonio Ranch is constantly branching out into specialty crops and new product markets. They recently started growing pussy willows which are often used for cut flowers to celebrate the lunar Chinese new year, signifying prosperity and happiness. Next, they started production of a cold-hardy green tea cultivar from Korea that is cultivated in shade-grown containers. And if that wasn't enough, they've also started growing traditional Asian fruit trees like jujube, mulberry and fig. Antonio Ranch supplies CSA shares through Elizabeth Anna's Urban Farm and Garden in Fort Worth. They also deliver produce to Ben Thanh Plaza and Central Market (Arlington), Global Food Market (Arlington), International Food Land (Arlington), Africana International (Arlington), Southwest Farmers Market (Arlington, Irving, Garland), May Hao Oriental Market (Arlington), Viet Tofu (Arlington), Nguyen Loi Oriental Supermarket (Haltom City), Hong Kong Market (Dallas), Carrollton Plaza Supermarket (Carrollton) and Halal Import Food Market (Arlington).
"The name Antonio Ranch was meant to remind us of inclusion and openness. Antonio is my name (Anthony) in Spanish. I myself speak some Spanish. We go out to do business with everyone in our highly diverse DFW community," says Anthony.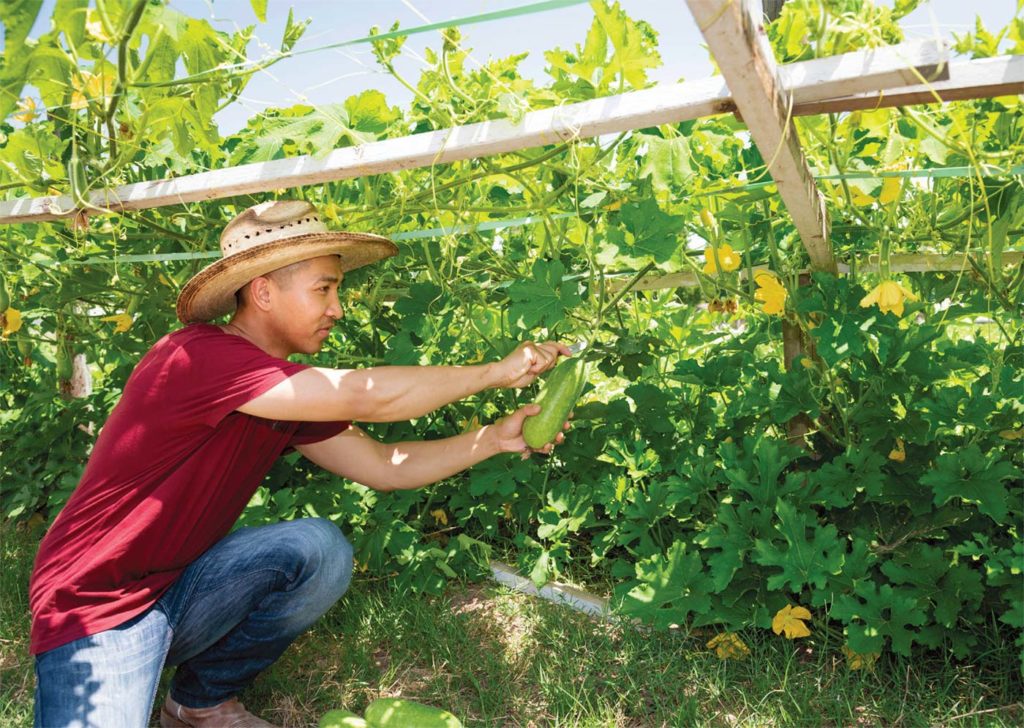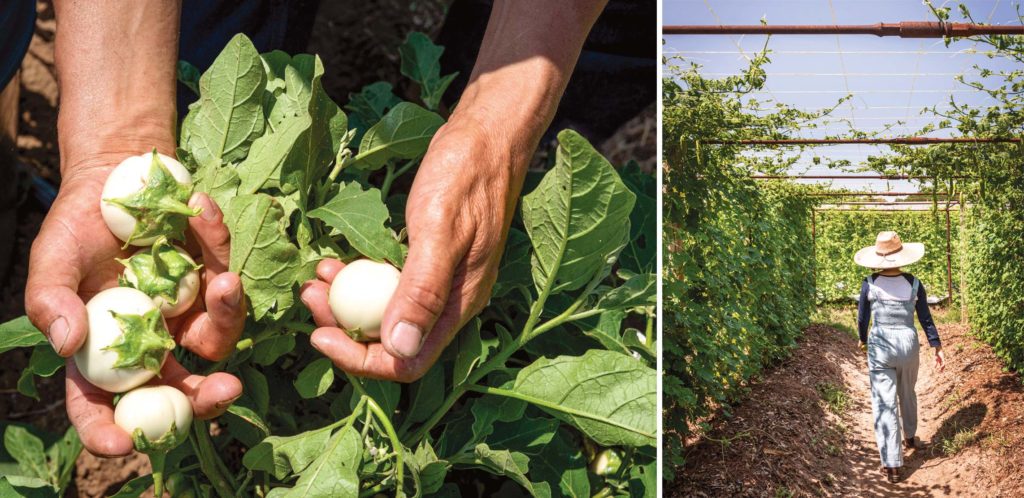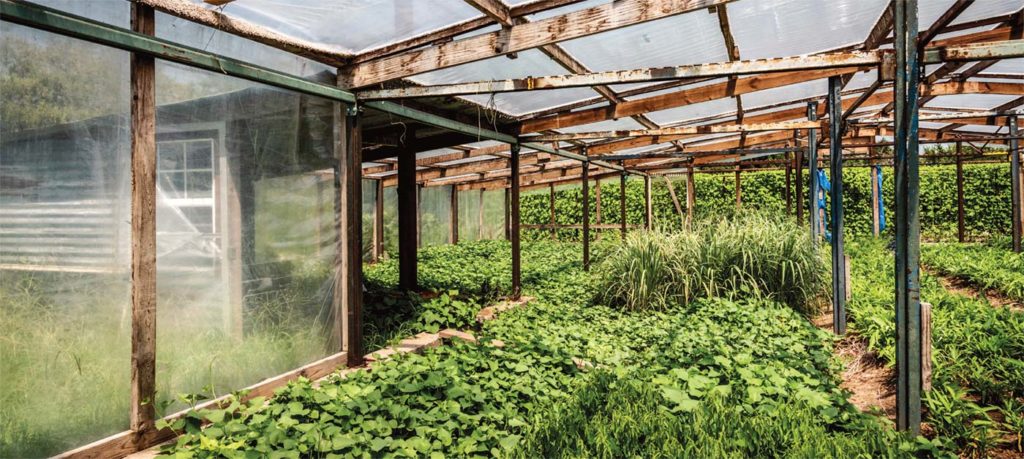 DIGGING DEEPER INTO THE RANCH'S UNIQUE CROPS
Malabar Spinach – Basella alba While not a true spinach, it is used similarly in the kitchen. Indigenous to tropical Asia and Africa, it is widely used as a leaf vegetable and, unlike spinach, it can produce exceptional yields in hotter weather.
Jute Mallow – Corchorus olitorius While most are familiar with this hibiscus relative for its mature fibers often used in jute ropes, you may not know that the young leaves, fruits and seeds are a sought-after vegetable used in Asian, Indian, Middle Eastern and African cuisines.
Fuzzy Squash – Benincasa hispida Reminiscent of a spiny zucchini, this prolific and closely related mildly sweet gourd is often peeled and used as a vegetable in Asian stir-fries and South Indian soups.
Bitter Melon – Momordica charantia An extremely nutritious member of the cucumber family, this fruit is native to Africa but has long been used as a staple in Asian, Indian, Caribbean and South American cuisines.
Bitter Leaves – Vernonia amygdalina The bitter leaves of this member of the daisy family are a staple in many African soups and stews. They are also believed to have several medicinal benefits.
Moringa – Moringa oleifera Often thought of as one of the most nutritious vegetables, the young leaves of this tree are harvested and used in Indian, African and Asian soups, vegetable dishes or salads.
Ong Choy – Ipomoea aquatica Also known as water spinach, this vegetable is a close relative of the sweet potato whose leaves are harvested similarly and used in Asian stirfries and soups. Its production was once banned in Texas, but restrictions have been lifted as it has been shown to have little threat of escaping into the wild. Home cultivation is completely unrestricted, while commercial production does require an exotic species permit.
Daniel Cunningham, Horticulturist with Texas A&M AgriLife's Water University program. His primary focus is a holistic approach to landscaping and food production systems. Cunningham specializes in Texas native plants and trees, vegetable gardening, edible landscaping, rainwater harvesting and is passionate about utilizing landscapes as habitat for benecial wildlife. For more gardening advice om Daniel, tune in to NBC DFW (Channel 5) on Sunday mornings or ask @TxPlantGuy on Facebook, Twitter or Instagram.