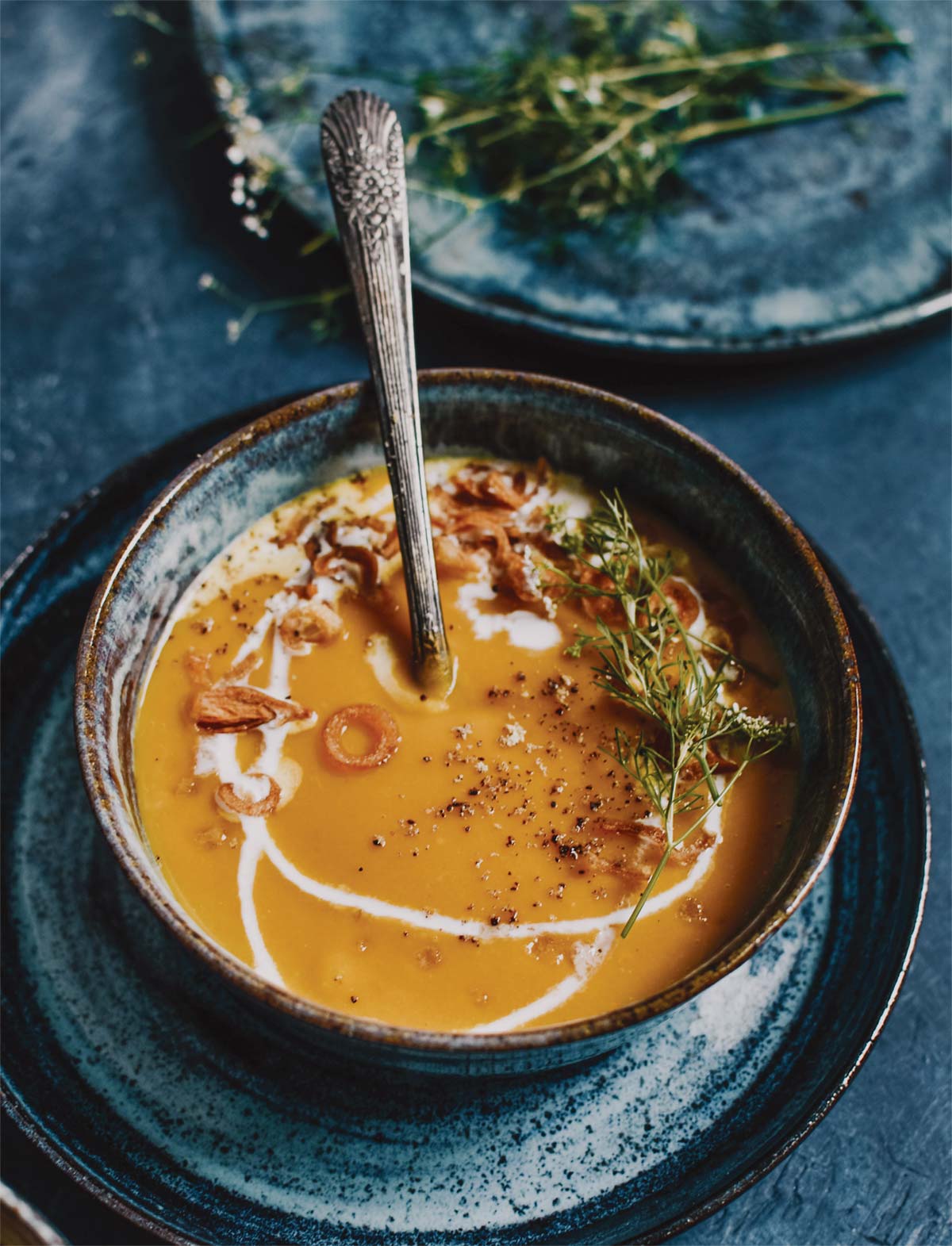 Although winter squashes are locally grown in the fall, their hardiness makes them an ideal storage crop that can be enjoyed throughout the winter. This vegan recipe puts to use the versatile butternut squash in a soup that will keep you warm on even the coldest winter night.
Serves 12
SOUP
3 large butternut squashes
3 tablespoons coconut oil
1 large yellow onion
1 tablespoon freshly grated ginger
6 cups vegetable stock
14 ounces coconut milk
Juice of 1 lime
Salt and pepper, to taste
GARNISH
Crispy fried shallots or onions (homemade or purchased)
6 tablespoons coconut milk
1 bunch cilantro, roughly chopped or as sprigs
Chili oil or hot sauce (optional, for added spiciness)
If using fried shallots or onions as garnish, slice very thinly into a saucepan and add canola oil until just covered. Cook on high heat until oil is bubbling, then reduce heat to medium and continue to cook until shallots/onions become golden brown. Remove to a dish lined with paper towels (to absorb excess oil) and set aside to cool.
Preheat oven to 350°. Cut squashes in half, lengthwise, and remove seeds. (These can be cleaned and toasted for a scrap-saving snack!) Brush open halves with 1 tablespoon coconut oil, then place squash (open sides down) on a baking sheet. Bake for 1 hour or until tender. Remove from oven and let cool. Discard peels, place flesh in a large bowl, and set aside.
In a large pot, heat 2 tablespoons coconut oil and cook onion and ginger over medium heat until soft and caramelized. Add vegetable stock and squash to pot, reduce heat to medium-low, then cover and simmer for 30 minutes, stirring occasionally. Remove from heat and stir in coconut milk. Working in small batches, purée soup in a blender until smooth. Stir in lime juice and season with salt and pepper.
Pour into serving bowls and garnish by swirling coconut milk and chili oil (if using) over each, then topping with fried shallots and cilantro, to taste.
Courtesy of Edible Communities' new cookbook Recipes For Home. Purchase this e-cookbook and you'll help keep our publishers doing what they do best: advocating for sustainable food systems and sharing stories that matter to us all. ediblecommunities.com/edible-cookbook
Monique Sourinho is a photographer based in Pomfret, Connecticut. She works both as a commission artist (painting and drawing) and food photographer, with an emphasis on transformative artistic experiences. See more of her work on Instagram or on her website Bee The Love (www.beethelove.net).