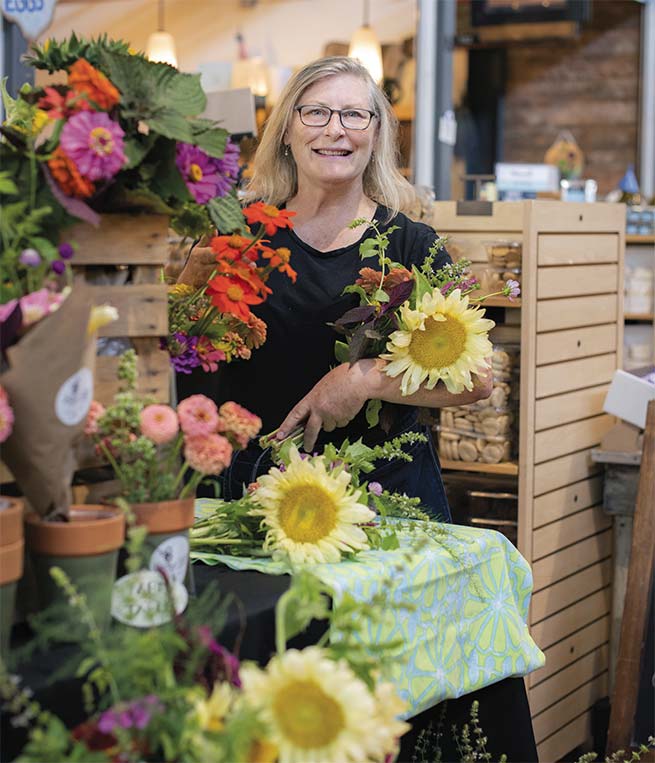 Amanda Vanhoozier sells her Bishop Hill Farm Flowers at Market Provisions in The Market at the Dallas Farmers Market.
Photography by Teresa Rafidi
One of the pleasures of being a flower farmer is watching the butterflies and hummingbirds dance across your crop. Another is the beautiful scent as you collect armfuls of bright blooms. The smiles on customers' faces as they carry away the bright arrangements is yet another.
But perhaps the greatest satisfaction is knowing you can make money from all that loveliness, as a handful of local farmers have discovered. They're taking advantage of the growing interest in locally grown, organic flowers.
People are forgoing bouquets from the grocery store in favor of subscribing to a nearby growers' service—a CSA for cut flowers—that provides fresh-picked lisianthus, perilla or gladioli. Sunflowers are popular with shoppers who like to pick up a quick bunch at farmers markets as they shop for squash and melons. Many farmers are adding flowers to their mix. We've seen them at Dallas, Coppell, McKinney and Denton Community markets.
Flower enthusiasts who subscribe to a growers' service receive a fresh arrangement each week. Other people seek out special flowers for events, and florists are buying for not-so-standard blooms. The flowers are grown organically and sustainably, another plus.
"I think people are just tired of the same old thing you've been seeing," says flower-grower Sarah Jo Eversole, who owns Everbloom Fields in Lancaster. "They are really ready for a new look—more wild, more heirloom. They are ready for that."
Amanda Vanhoozier, one of the first local growers, says she's promoted her flowers to local chefs who pride themselves on farm-to-table fresh food. "It just seems reasonable to have local, organic flowers on the table," says the creator of the Just Picked TX website. A few local chefs, such as Graham Dodds and Dean Fearing, incorporate flowers from Jeff Bednar's Profound Microfarms in Lucas into their menus.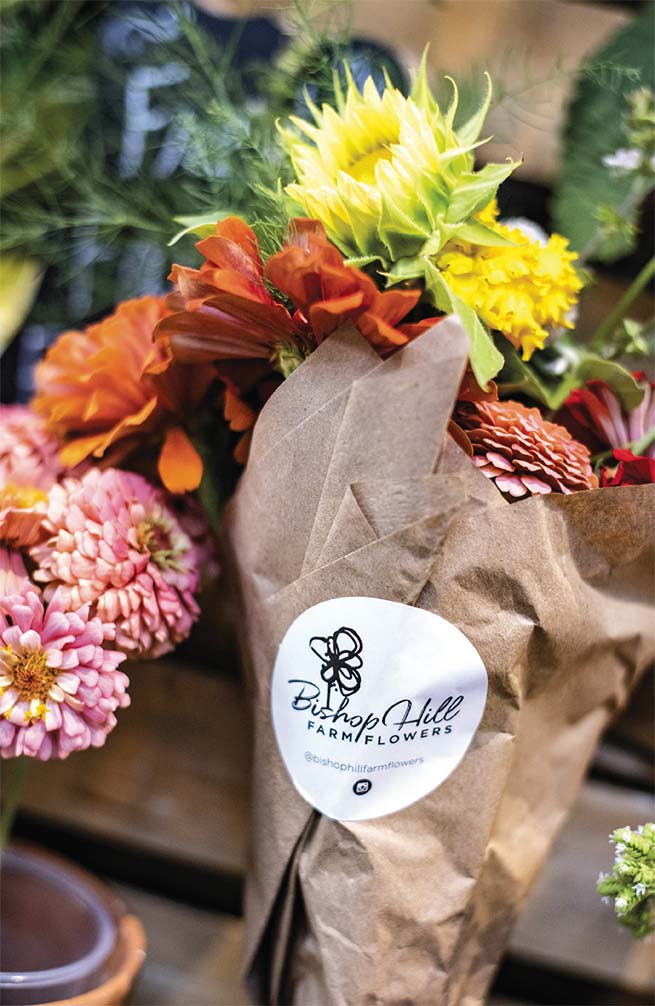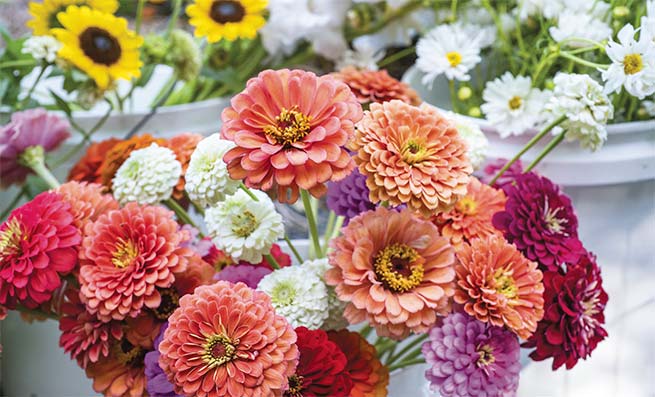 Sunflowers (not quite open) and zinnias are favorites.
Despite the budding interest in local flowers, 99 percent of the flowers sold in Texas come from somewhere else, according to the Texas Department of Agriculture. In 2016 there were only about 25 instate growers. North Texas has a handful that have begun in the last couple of years.
Vanhoozier, a retired farmers market manager whose website includes a blog post on her dream to grow cut flowers, saw the rising market and decided to fulfill a life-long dream to become a cut-flower farmer. She'd been growing flowers on the "sly" in her backyard in Coppell but decided last Christmas to turn it into a real business. Sitting at her farmhouse table, she worked out a three-year business plan.
"Could I be an entrepreneur?" she wondered. She had grown up helping her grandfather in the garden at the family farm, Bishop Hill, in Ohio. At one point, she thought growing flowers might be a way to keep the farm in the family, and at the University of Kansas grew sunflowers on a small plot and sold them to local restaurants. But she had no horticulture or agriculture credentials. The family farm was sold to the farm manager, and Vanhoozier went into teaching.
She didn't completely give up, though. Over the years, she worked on school gardens and community gardens, squirreling away notes, photos and books about gardening and small farms.
After leaving teaching, she went to work promoting local, organic farming and farmers markets. "I'm the mama of the Coppell Farmers Market," she says. She was also director of market operation at the Dallas Farmers Market, and she continues to promote local farmers on her Just Picked TX website.
Still, she kept thinking about flowers. She had some land nearby her Coppell home; she had contacts at the markets; and she'd sold flowers to restaurants, friends and florists. "I was 80 percent of the way there," she says. She named the enterprise Bishop Hill Farm Flowers in honor of the family farm. You can find her Saturdays and some Sundays at Market Provisions in The Market at the Dallas Farmers Market, selling premade bouquets and creating custom arrangements on the spot.
Flower farming is different, and the same, from small-scale organic farming. First, flower farms look like…farms. They do not look like fields of wildflowers. They are planted in neat rows, with landscape fabric between them to keep down the weeds. More than half the rows may be empty after the blooms have been harvested.
When to plant and when to harvest must be carefully gauged. Like fruits and vegetables, flowers are planted successively so there is always something ready to cut. Like other farms, prices must be in line with what shoppers are willing to pay. Without the transportation costs of industrially grown flowers, local growers are able to grow their blooms for less. And because the farms are small there are few labor costs.
The flowers vary. Stalwarts are sunflowers, cosmos and zinnias. Flower farmers have to pay attention to trends (burgundy and blush flowers are in now, they say) and make sure their supply matches. They also look for unusual outlets. Vanhoozier had a pop-up at a local coffee shop and has sold to an assisted-living center so that residents could make their own centerpieces.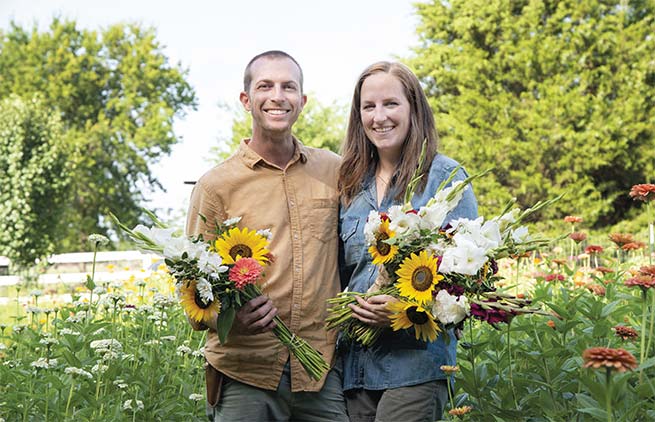 Jonathan and Kendall Herb cradle gladioli and sunflowers with a smattering of cosmos and zinnias.
Weddings and subscriptions—the CSA model—make up a big part of flower-farm business. With subscriptions, customers pay a fixed amount for regular deliveries of flowers.
Woodbine Flower Farm in Granbury has 10 to 30 subscribers at a time. For $100, they get an exquisite bunch of flowers each week for six weeks. The pick-up point is a Fort Worth coffee house.
"Early spring we have a huge, huge rush," says Katie Toon, who runs the farm. Currently it's one acre, but she plans to expand to two. She was teaching occupational therapy when her college closed. Her passion for flowers took over, and the farm started almost by accident.
She and her fiancé, Jacob Furr, a musician, found bulbs on sale at a big-box store and bought them all. They planted them on land owned by Toon's parents and grandparents, the bulbs bloomed and they sold them. So they planted more.
"Last year we planted 500 bulbs. This year we planted 10,000," she says. They've also planted lots of snapdragons, zinnias (lots of colors), Nigel red larkspur and honeysuckle, "anything that holds up well," Toon says. She has some prized, plum-colored sunflowers. She learned her appreciation of flowers and the land early. Her grandparents were farmers and her parents taught her a deep appreciation for the natural world. "I love flowers," Toon says. "They are incredibly meaningful to me."
Weddings are also a high-demand platform for local cut flowers— and a natural for Toon, who had styled weddings as a side job for 10 years. "When I figured out you could grow your [wedding] flowers, it was a revelation," she says. She'll do about eight weddings this year, including her own in October.
Jonathan Herb and his wife Kendall of Thirsty Farms around Forney started a whole new garden to serve a wedding. "The bride came to me in January, and we talked about what she wanted and what I could provide. And I planted this," Jonathan says pointing to a 50-by-50-foot field. The white gladioli are gone along with sunflowers, but the cosmos and multi-colored zinnias remain.
Even though the wedding is over, he'll be replanting the plot. The garden is on his in-laws' property not far from his home in Forney. As he sits in the shade and chats, a hummingbird, full of nectar from the flowers, sits on the fence, resting as it watches him. A generator hums in a trailer he bought to haul the flowers and keep them cool.
Jonathan is not new to small farming, and you can find him at the Dallas Farmers Market. Scattered around Forney, he's got nine plots that house longhorn cows and beehives and now flowers. They seemed like a good expansion because of the profit potential. "I've got thousands of flowers out there," he says waving his hand toward the garden. When you look at each zinnia as a profit center, it's easy to see how the revenue could add up. Prices vary but can average a dollar a stem.
Things have been going so well for Everbloom Fields that the Lancaster farm is expanding.
They've already got the parts for a greenhouse and a high tunnel structure in the backyard and are just waiting for winter to build them, says owner Sarah Jo Eversole. She and husband Matt started the farm this year. She was a data analyst who quit her job to stay home with a child with health problems.
She found a book, Flower Confidential by Amy Stewart, that explores the international cut-flower market and said that the locally grown flower market was returning. Eversole says she kept researching and decided that flower-growing was for her. "I said I could and I did," she says. She sells through subscriptions and for weddings and other events. The subscription bouquets are delivered to a coffee house in Oak Cliff.
While the cut-flower market may be flourishing, most growers have other sources of income. For instance, Toon at Woodbine teaches painting and drawing classes. She also plans to sell hand-collected seeds from her flowers this fall. Herb sells honey from his hives and beef from his longhorns. The work, like all farm work, is hard, but satisfying.
"I'm ecstatic," Toon says. "I've never been happier."
Facebook: Bishop Hill Farm Flowers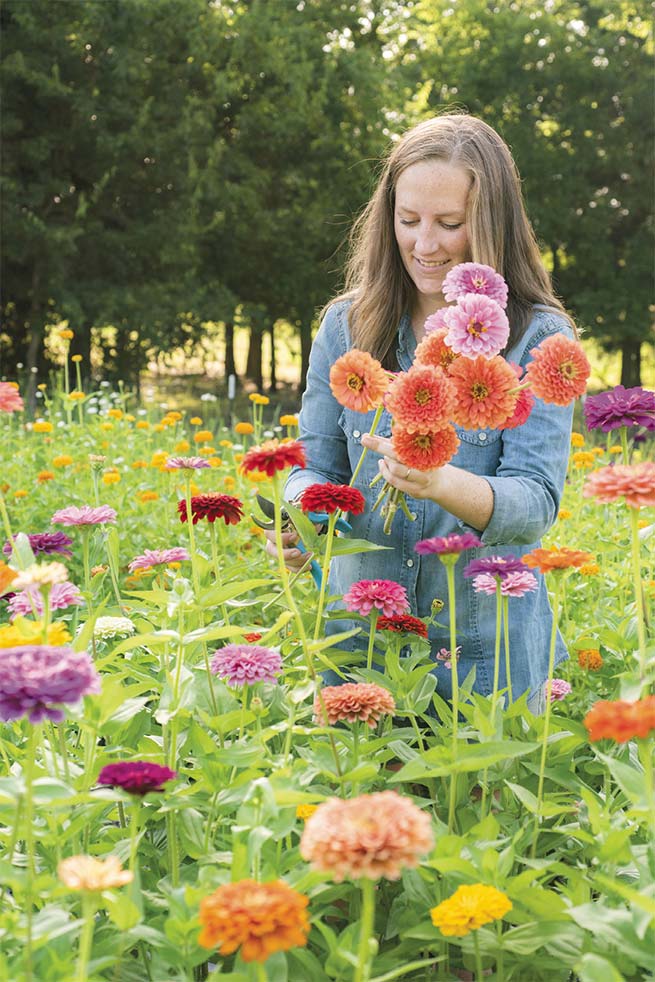 Kendall harvests colorful zinnia.