Photographs by Azure Photography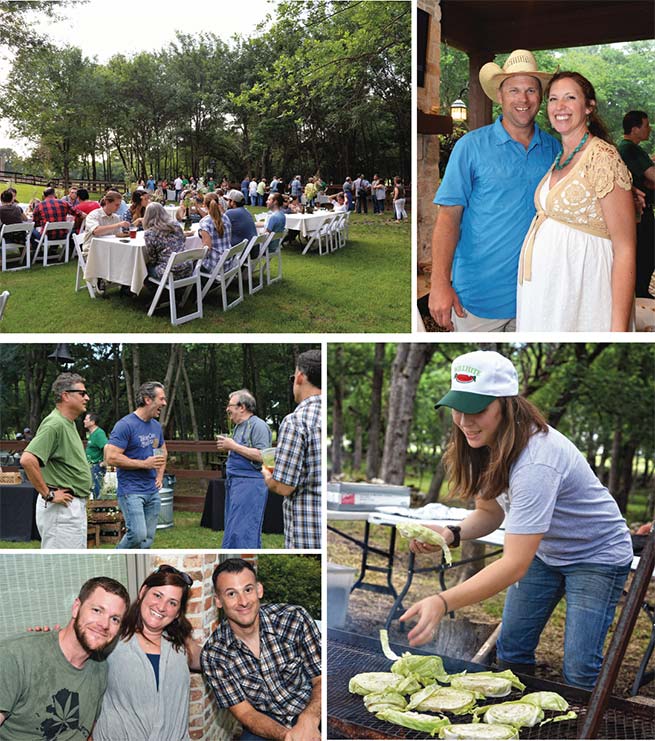 Top, clockwise: Potluck supper at Water Boy Farms; Local Yocal owner Matt Hamilton
and his wife Heather; Harvest chef Andrea Shackelford grilling cabbage;
chef Jeff Qualls and wife Michelle, owners of Rye, with local foodie Adam Pagano. McKinney
restaurateur Rick Wells with Patina Green chef Robert Lyford and chef Andre Bedouret.
Picture a potluck summer supper with a hundred guests gathered in a pastoral setting. A large garden and wildflower meadow are framed by shady groves. Serving tables are heaped with platters of lovingly prepared dishes. A friendly competition and mutual appreciation exists amongst the crowd. Shortly after the long line of diners have settled themselves into familiar conversations and beautiful plates of food, a storm blows in from the west. Tall, looming black clouds bring a sudden shower. With a sense of camaraderie, people begin picking up plates, chairs and glasses, helping each other seek cover amidst the sounds of clinking china, silverware, thunder and lots of laughter.
The scene of the event was Water Boy Farms in Lucas, home of Rick and Robbin Wells. Broadly involved in the local food community, Rick is the owner of Harvest Seasonal Kitchen and Rick's Chophouse in downtown McKinney. The summer gathering might well have been a family reunion. Half of the attending farmers, ranchers, food artisans and chefs have been friends and colleagues for years, and the others are quickly creating relationships. All are part of a community striving to produce and prepare the best locally grown food in Texas.
Communities are born out of shared need and common purpose. That's exactly what has happened over recent years in historically agricultural Collin County, where the supportive relationship between chefs and farmers has benefited from the accelerated demands of savvy diners with a taste for regional cuisine, locally sourced heirloom produce and grass-fed protein. Contrary to national trends, small family farms are thriving here.


Top to bottom: Slicing up supper, chef George Brown, Experimental Table,
and Andrew Trollinger; chef Katie Brown, Experimental Table, with
writer/grower Tom Motley and wife Becca; from Harvest, owner Rick Wells
and chef Andrea Shackelford with Patina Green's chef Robert Lyford;
from Pure Land Organic—Allan Couch, Jack and Megan Neubauer.
As a founding vendor at the Historic McKinney Farmers Market, which opened at Chestnut Square in 2007, I have witnessed the natural progression and expansion of our farm-to-table community firsthand. To stand out from the crowd, I offered heirloom herbs and hard-to-find produce like striped Listada eggplant and lemon cucumbers. The first year, I did more educating than selling.
The McKinney Farmers Market often serves as the initial meeting place between chefs and farmers, and both groups offer their support each year to help raise funds for this bustling marketplace. In May, chefs Andrea Shackelford of Harvest, Robert Lyford of Patina Green Home and Market and Jeff Qualls of Rye teamed up for the annual Farm-to-Market Dinner at the market's historic site. All items for the popular event were donated by the market's vendors.
Each Saturday, chef Jeff arrives just before the market opens. He surveys the day's offerings and makes selections for Rye's weekly planned plates. The restaurant, housed in the former law office of Texas Governor James W. Throckmorton (1866-67), is an intimate, brick-walled space with the feel of a rustic enoteca.
Jeff, a local boy who grew up in nearby Sherman, trained at the Culinary Institute of America, both in Hyde Park, NY, and at the Greystone campus, Napa Valley. His knowledge of wines is impressive, and he frequently joins business neighbor Andy Doyle from the McKinney Wine Merchant to plan wine-pairing dinners. For years, chefs have relied on Andy's expertise and flawless palate.
Jeff purchases duck eggs and duck from Keelee and Mark Page's Circle 15 Farms in Gunter. His dish Duck, Duck, Mousse is a crispy quette and duck liver pate with Luxardo cherry-duck jus. "A trio of mini entrees," says Jeff. "We showcase whole-bird cooking."
Such unique dishes are invented during the dialogue between chef and farmer, and as these symbiotic relationships progress, farmers grow items by request.
For a July dinner, chef Robert of Patina Green built his tasting menu around produce from Pure Land Organic farm, a 26-acre operation run by father-daughter team Jack and Megan Neubauer, using their shishitos, Rocky Ford melons and fermented chiles. The farm also grows dewberries, blackberries and Golden Nugget tomatoes.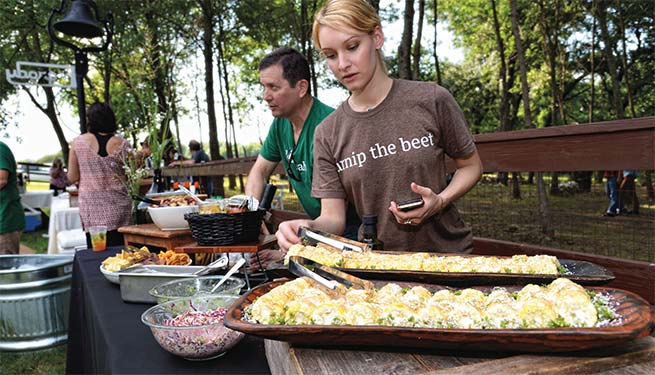 The vibrant exchange over a delicious plate of locally
sourced food provides the common-goal catalyst
for farmer/chef friendships to thrive
Chef Robert, who trained at California Culinary Academy in San Francisco, offers cooking classes several times a year in the big farmhouse kitchen of Leslie Luscombe, fourth generation owner of Luscombe Farm in Anna. On the second and fourth Sundays of the month through September, Leslie hosts a seasonal market at her farm, and the farm's signature line of preserves, pickle relish and sauces are used at Patina Green, Rick's Chophouse and Harvest.
I first met Leslie at the McKinney Farmers Market in 2010. She had rented a small space, setting out her colorful jam jars on one 3-by- 6-foot folding table, near my big tent's seasoned display. She had no tent. No chair, so I loaned her one. We hit it off right away. Her preserves tasted like history.
Leslie uses her own fruit, plus seasonal produce from neighboring farms. Old Luscombe family fig trees provide the base for her popular fig preserves. She knows the location of forgotten, weedy groves of plums and pears and ancient stands of berries, far off any road. "As a child," she recalls, "I loved canning and making jelly with my aunt and Granny, right here on the same farm."
CIA grads Katie and George Brown met on the school's Hyde Park campus. Their triplets—Oliver, William and Clementine—are being raised up in the country on the Browns' rural acreage in Lucas and are valid evidence of the growth of Collin County family farms. Five years ago, the Browns relocated their upscale Dallas catering business to the Lucas property. These days, the children balance baseball and piglets, volleyball and pullets, science-class and lambing.
The farm is home to cows, pigs, sheep and heritage breed chickens, as well as several culinary ventures. George ages and cures beef, ham and charcuterie from his stock and partners on events with rancher and butcher shop owner Matt Hamilton (Local Yocal Farm to Market).
For the Browns' catering company, Experimental Table, Katie makes her famous pastries using eggs from their pastured flock. Katie says, "The biggest difference I have noticed using eggs from our free range chickens is the way the yolks color cakes and custards. Our hens' egg yolks are deep orange colored, resulting in true yellow cakes like the pioneers made. I feel I've tapped into an American tradition."
Restaurateur Rick Wells puts his farm-to-table values to practice at both of his establishments. His restaurant Harvest represents the culmination of years of collaborative brainstorming and planning with local farmers. Harvest chef Andrea Shackelford's extensive work history (with Dallas legends Tim Bevins and Graham Dodds) and her upbringing (as a child of gardeners) prepared her to take the helm of the this farm-to-table venture. She is also the consulting manager of Water Boy Farms and is nearing completion of a coveted Master Gardeners Certification. Andrea maintains excellent rap own planting experience provides her with a genuine hands-in-the-dirt appreciation for the farmers' eff orts.
At Rick's Chophouse bar, mixologist Keisha Allen serves up her Garden of Eden cocktail pairing a slice of Water Boy Farms' cucumber with my own Motley silver lemon thyme frozen in an ice cube.
The drink's complexity evolves as the melting ice combines the released flavor of the thyme with cucumber amidst the secret mix of lush spirits.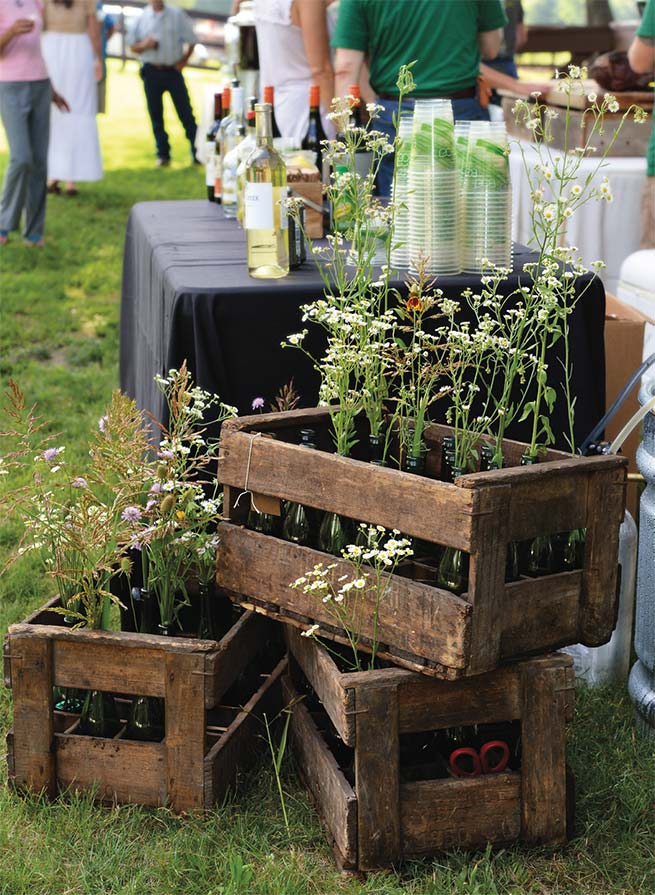 Another of Rick's initiatives is the important North Texas Farm-to- Table Symposium, begun in 2015. Th ese quarterly dinner gatherings bring together area food growers, gardeners, artisans, brewers and chefs to discuss selected ag production and marketing issues. The chosen topics are relevant and instructive.
Having been privileged to attend most of the symposia, I've seen the event's significant impact on our local food community. But possibly the most important thing that happens is the individual exchange of information and the discussions that occur at each table, up close and personal. The vibrant exchange over a delicious plate of locally sourced food provides the common-goal catalyst for farmer/ chef friendships to thrive. The practice of farm-to-table principles in Collin County is a community effort.
The next North Texas Farm-to-Table Symposium is on October 6. For information, go to Texas A&M AgriLife link: collin. agrilife.org/event/north-texas-farm-to-table-symposium-3-2.
Writer Tom Motley and wife Becca maintain a half-acre garden in historic downtown McKinney, where they continue to grow heirloom herbs and produce for local chefs. An archive of Tom's food and farm articles is available at Tom Motley North Texas Gardens.
Writer Tom Motley and wife Becca maintain a half-acre garden in historic downtown McKinney, where they continue to grow heirloom herbs and produce for local chefs. An archive of Tom's food and farm articles is available at Tom Motley North Texas Gardens.