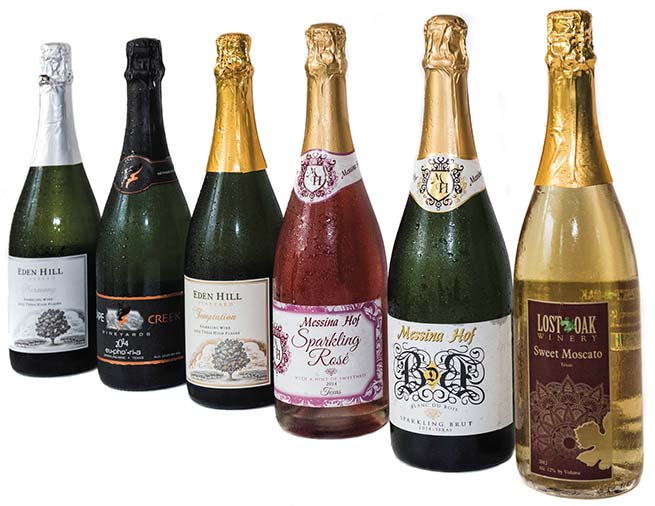 Photography by Russ Kane
Some Texas wineries are expanding their repertoires to include sparkling wines. These winery owners and winemakers see Texas sparklers as a way to distinguish themselves in the increasingly crowded field of Texas-wine-country enterprises. But one potential issue is that Texas, as a wine region, more closely resembles warm Mediterranean locales than the cool, damp hills of north central Europe that are home to the traditional grape varieties—Chardonnay, Pinot Noir and Pinot Meunier—used for méthode champenoise (the government-regulated wine-production method required in order to call a sparkling wine "Champagne"). However, like the producers of Italian Prosecco and Asti Spumante, and makers of Spanish Cava before them, Texas winemakers are now exploring which local grapes can be used to produce a new breed of Texas-style sparkling wines.
Grape Creek Vineyards 2014 Euphoria
"To make our Euphoria, we wanted characteristics produced by méthode champenoise, also called méthode traditionelle outside the Champagne region," says Grape Creek Vineyards owner Brian Heath. "Consequently, this wine involves carbonation in this classic way—with secondary fermentation and extended yeast contact inbottle.
It's the process I associate with fine sparkling wines." Euphoria is a dry, brut-style sparkler made from 50 percent Grape Creek's Estate Chenin Blanc and 50 percent Texas High Plains Muscat Canelli. It has a persistent effervescent mousse, velvety mouthfeel and yeasty zest with notes of green melon, sweet cream, ginger and honeysuckle. "We created this wine for a growing consumer sector: modern, and often younger, wine consumers that are changing the paradigm—who see sparkling wines for everyday sipping and not something just saved for celebratory events," says Heath.
Lost Oak Winery 2012 Sweet Moscato
"Our Sweet Moscato is seriously good…and yet a bit playful," says Lost Oak Winery owner Gene Estes. "We made it for the people in our tasting room who have a willingness to try new things." It's definitely a "wine of opportunity": 2012 was a good year for Muscat Canelli grape production and offered ample opportunity to use quite a bit of the harvest for sparkling wine. Lost Oak's Sweet Moscato was made medium-sweet (4 percent residual sugar) in the frizzante style (lightly sparkling) that's common in the well-known Italian Moscato d'Asti made from the same grape. Like Asti, this sparkling Moscato uses tank fermentation (the Charmat method), resulting in a fruit-driven wine, strong in tropical flavors such as pineapple and mango. Estes believes the wine became even more honey-like with bottle aging, and Jesse Barter, manager of Four Point Cellars near Fredericksburg where Lost Oak is a partner winery, plays off the wine's unique sweet traits to make specialty drinks. Estes' wife, Judy, recommends pairing the sparkling moscato with creamy desserts such as tres leches cake.
Messina Hof Winery 2014 Sparkling Brut and 2014 Sparkling Rosé
The Blanc Du Bois grape is a French/American hybrid developed over half a century, ending in the late 1980s. The goal was to produce a white-wine grape suitable for warmer and more humid regions like Texas. "We've been impressed with Blanc Du Bois' adaptability for making many styles of wines," says Paul M. Bonarrigo, co-owner of Messina Hof Winery. "We saw sparkling wines as a fast-growing sector of the wine business and felt that Blanc Du Bois had the right characteristics for a nice Texas sparkler."
Like the producers of Italian Prosecco and Asti
Spumante, and makers of Spanish Cava before
them, Texas winemakers are now exploring
which local grapes can be used to produce a
new breed of Texas-style sparkling wines.
Bonarrigo's Sparkling Brut and Sparkling Rosé are two tank-fermented offerings that highlight Blanc Du Bois' fresh and fl oral nuances. The dry brut's eff ervescence carries delicate citrus aromatics, while the rosé (made with an addition of Pinot Noir and finished with 2 percent residual sugar) has tropical fruit characteristics combined with strawberry and cranberry notes. Bonarrigo likes to pair the brut with a variety of soft cheeses and lightly poached seafood preparations, and suggests grilled shrimp and vegetables or charcuterie for the rosé.
Eden Hill Vineyard 2015 Harmony and 2015 Temptation
Taking a page out of the sparkling wine history of the tiny northern Rhône appellation of Saint-Péray, Eden Hill Vineyard decided to base its sparkling wines on white Rhône grape varieties grown here in Texas. "It was obvious that the [traditional] champenoise grape varieties are just not suited for our Texas climate," says family winemaker Chris Hornbaker. "But we've had great success making nicely structured and gold-medal- worthy white wines from Roussanne, and now have its Rhônepartner Marsanne to work with, too."
Hornbaker's Harmony is a dry, 50/50 blend of Roussanne and Marsanne and stitches together citrus and ripe yellow apple with a bone-dry mineral finish. It begs for a plate of freshly shucked Gulf oysters or just about any food that comes with cream sauce. His semisweet Temptation keys on the lemon drop notes of Texas Roussanne that, when combined with sweetness, also yield ripe pear and pineapple nuances that Hornbaker says go great with mildly sweet desserts—especially those made with lemon—or spicy foods.
Texas wineries are gearing up to off er sparkling wines for just about every palate. These are only a few of the many out there. Enjoy the Texas sparkle!