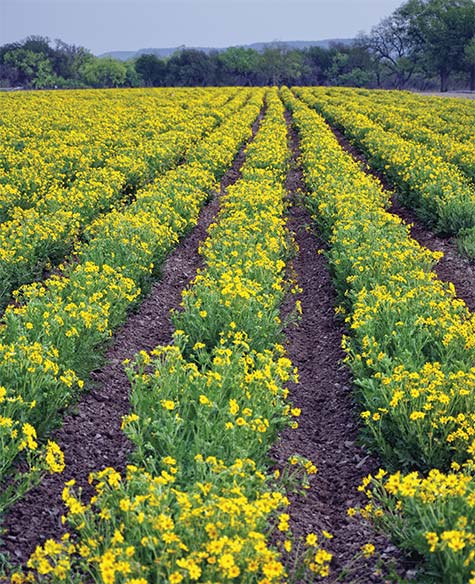 Cutleaf Daisy
photos courtesy of Native American Seed
Native American Seed is a seed propagation farm located near Junction, Texas, four hours southwest of the Metroplex. The 262-acre property includes a mile of frontage on the Llano River— the source of irrigation water for the 60 acres devoted to cultivating native plants for seed. In addition to the farm's riparian habitat, the acreage encompasses bottomland hardwood forest, an alluvial flood plain and uplands.
The business is owned and operated by two generations of the Neiman family—Bill and Jan, who founded it near Dallas in 1988 and relocated it to Junction in 1995, and their children Emily and Weston. After finishing college and working briefly elsewhere, Emily and Weston have returned home to work with their parents. The Neimans harvest seeds not only from the plants they cultivate, but also from widely scattered remnants of the prairie, and their business is the foremost seed source for numerous plant species native to the ecosystems of Texas and surrounding states.
If you farm or ranch and are restoring native plants to your landscape for wildlife habitat and livestock forage, you've probably bought seeds from the Neimans. If you live in the city and cultivate native plants on your property or are involved in native plant projects in parks and other spaces, you've probably bought seeds from the Neimans, too. And if you attend conferences of conservation organizations, you've probably heard Bill Neiman speak about native plants and his long and varied work with them.
The Neimans specialize not just in propagating and harvesting seeds, but also in designing and implementing ecological restoration projects on large private and public lands, including a 2013 job for Texas Parks and Wildlife, restoring tall-grass prairie plants to the San Jacinto Battleground. Though Bill often describes himself as a refugee from urban sprawl, much of the Neimans' work takes place in cities such as Dallas, Houston and San Antonio, and provides an antidote to the many ills of sprawl.
In North Texas, Native American Seed played an integral role in establishing native plants in the landscape designs of the Botanical Research Institute of Texas and the George W. Bush Presidential Center. As awareness of the role of native plants in healthy ecosystems grows both in urban and rural areas, the Neimans' work is flourishing more than ever; they now count 20 full-time employees and currently sell 30 mixes of 170 individual plant species. Their seeds are available directly from their Junction facility and, increasingly, from retail garden centers, including North Haven Gardens, Trinity Haymarket, Gecko Hardware and Nicholson-Hardie Garden Center.
While seeds and restoration projects form the core of the Neimans' business, a smaller and lesser-known enterprise has been coming along in recent years: ecotourism. Overnight accommodations are now available on the farm in either the Hacienda Maria or Cool River Cabin.
The two-story hacienda—on a low mesa overlooking the farm and river valley—has two bedrooms, five bathrooms, a kitchen, bar, patio and meeting room. It houses up to eight people overnight and accommodates up to 50 for day or evening meetings or parties, including wedding receptions. Some distance from the hacienda, the cabin sits between the cultivated fields and a hardwood forest growing along the riverbank. With two bedrooms, a sleeping loft, two bathrooms, a kitchen and a living-dining area, it accommodates up to six people.
I rented the cabin for the first time two years ago, and as I write this article, I'm occupying it for my twelfth time. Working landscapes— places where people use natural resources to produce things to sell while also nurturing the ecological health and beauty of the place— appeal to me at least as much as simply scenic landscapes do, and certainly Native American Seed farm is a working landscape and an instructive one.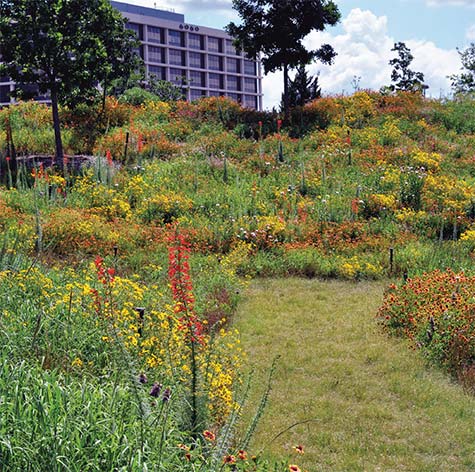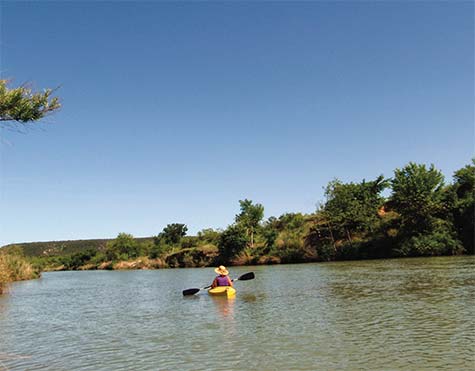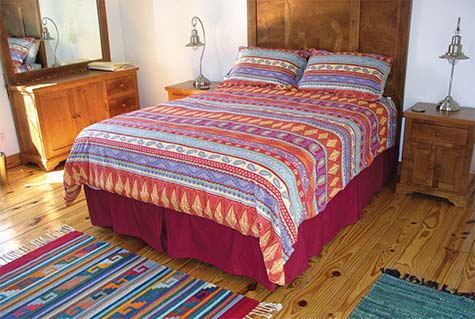 (top to bottom): Standing Cypress and Cutleaf Daisy at
the George W. Bush Presidential Library; On the Llano River; Cool
River Cabin bedroom.
Each cultivated plot of a particular plant is marked with the plant's common and botanical names, and my favorite activity here is to take long walks around the plots and study the features and names of the grasses and flowers—a beautiful exercise in Plant ID 101. On my first visit, the plot nearest the cabin was a riot of yellow Corydalis curvisiliqua, also called "scrambled eggs"—a new flower for me and a feast for my eyes all day long.
This visit, the same plot is now a wine fest, abloom in winecups, though not the low-growing perennial I know, but a taller annual, Callirhoe leiocarpa, which the Neimans discovered on a back road near the farm. Walking around the plots, I almost always encounter workers hoeing and moving irrigation pipes, and I enjoy chatting with them. Having seen cultivation activities every visit, I look forward to the day when I get to see sowing and harvesting.
I also enjoy daily walks to the river, on a path from the cabin through the hardwood forest of mesquites, live oaks and native persimmons swaying above an understory of nopal, agarita, huisache and more. Native white-tailed deer usually appear, and sometimes Axis deer— an exotic breed introduced by neighboring ranchers.
The path ultimately winds to a rack of canoes and kayaks available for free to guests, and to a flat rock on the bank that's a good entry point, though I haven't yet gone in. I like simply sitting and watching. Once, a pair of wild turkeys foraged for a long time on the opposite bank, and more than once I've seen a great blue heron working the shallows.
You need not be at the river to see birds, however. They're everywhere, and with two large water vessels near the cabin to attract them, I see plenty from the porches and the many-windowed main room. This past March, a vermilion flycatcher thrilled me for hours, yesterday it was a painted bunting, and today a roadrunner foraged in nopal and agarita, then ambled over to a water vessel.
The nights here are as wonderful as the days, offering additional quiet and solitude and a darkness deep and wide enough that you can see the stars and moon in rare brilliance among long swaths of the Milky Way. The only sounds are crickets and frogs and sometimes the wind. With each visit, I think it's the best trip yet, the most interesting and beautiful and the most restorative—a specialty of Native American Seed farm in more ways than one.
This past March, a vermilion flycatcher
thrilled me for hours, yesterday it was a
painted bunting, and today a roadrunner
foraged in nopal and agarita, then
ambled over to a water vessel.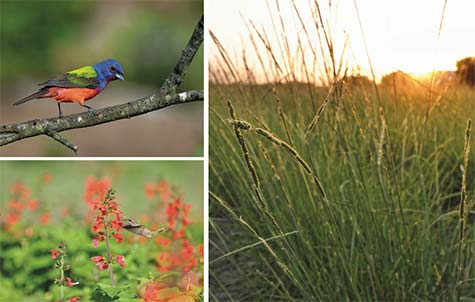 (clockwise): Painted bunting, Texas Cupgrass,
Hummingbird with Scarlet Sage.
PAMELA WALKER, who lives in Houston, has worked actively in local farm and food community development since 1998. She is the author of Growing Good Things to Eat in Texas: Profiles of Organic Farmers and Ranchers Across the State (TAMU Press, 2009), and is currently writing a book about local farm and food communities in Texas, under contract with TAMU Press.