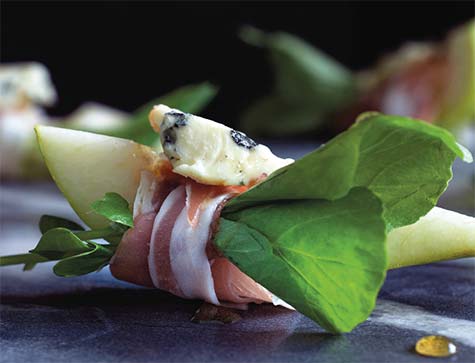 Photo and recipe by Joy Zhang, joylicious.net
Simple to make, beautiful on the plate, these wrapped pear appetizers are packed with local flavors, both savory and sweet. For a seasonal variation, use Fuyu persimmons or apples instead of pears.
8 servings
2 pears, cored and cut into 8 wedges
2 teaspoons fresh lemon juice
8 thin slices prosciutto (6 oz.), cut in half lengthwise
1 cup watercress (or arugula)
4 ounces blue cheese
1 tablespoon local wildflower honey
Place pear wedges in bowl and toss with lemon juice. Place prosciutto slices, one by one, on serving plate. Atop each, layer a pear wedge and watercress leaf and roll into a bundle. Top with a hunk of cheese and then drizzle with local wildflower honey.
JOY ZHANG was born in Shanghai and moved to the US in the late 1980s. With a longtime background in cooking and photography, she enjoys telling stories through food and focuses on capturing the shapes, colors and textures of food through natural light and contemporary styling. www.joyzhangphotography.com