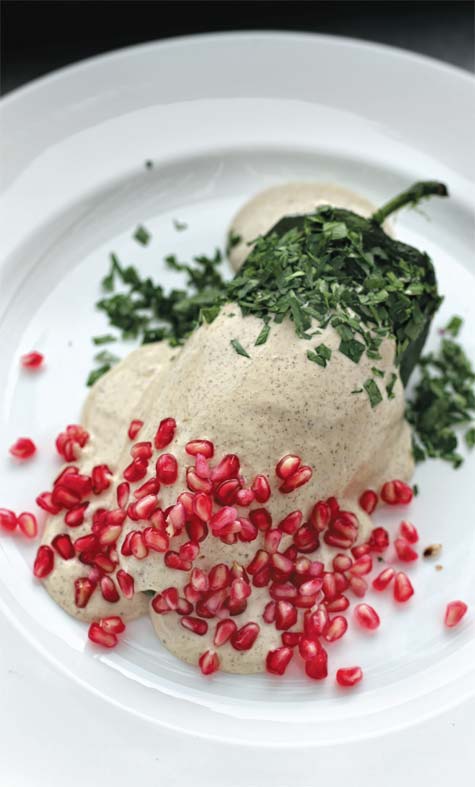 By Executive Chef Victor Palma, Rosewood Hotel San Miguel de Allende
Serves 10
10 large poblano chiles
For Meat Filling
2 pounds ground pork leg
1 onion, quartered
3 garlic cloves, whole and peeled
2 bay leaves
2 cinnamon sticks
3 star anise
For Fruit Filling
1 tablespoon canola or corn oil
½ medium onion, chopped
4 cloves of garlic, minced
4 medium tomatoes, seeded and chopped
½ cup parsley, chopped
½ cup chopped almonds
½ cup pine nuts
½ cup diced biznaga (candied cactus) *
1 pear, peeled, cored and chopped
1 apple, peeled, cored and chopped
1 peach, pitted, peeled and chopped
¼ cup raisins
⅓ cup brown sugar
2 teaspoons salt, or to taste
For Walnut Sauce
2 cups milk
1 cup goat cheese
1 cup fresh walnuts (or pecans), peeled and chopped
¼ teaspoon ground cinnamon
¼ cup dry sherry
Sugar (optional)
For Garnish
¾-1 cup of pomegranate seeds
½ cup parsley, finely chopped
1. ROAST THE CHILES
Place each chile directly onto an open gas flame (or broil in the oven) until the skin begins to blister and burn. Periodically turn so that all sides will be evenly blackened. When finished, place each in a plastic bag for about 10 minutes. After letting the peppers "sweat," rub gently to flake off all of the burnt skin. When only green remains, gently slit the center of the pepper with a sharp knife to remove the seeds. Leave the top of the chile and the base of the stem intact. What will remain is a shell for your filling.
2. PREPARE THE MEAT
Place the meat, onion, garlic, bay leaves, cinnamon sticks and star anise in a large pot and cover with cold water. Bring to a boil over medium-high heat. Lower the heat and simmer until the meat is a light gray and completely cooked. Drain and remove onion, garlic, bay leaves, cinnamon sticks and star anise. Salt meat and set aside.
3. FOR REMAINDER OF FILLING
Heat oil in a large skillet over medium heat and sauté onion and garlic until transparent. Add tomatoes and parsley and sauté until the tomatoes soft en. Stir in cooked meat and simmer for 5 minutes, uncovered. Add almonds, pine nuts, candied fruit, pear, apple, peach, raisins and brown sugar. Leave on the heat, occasionally stirring, until fruit is softened and the meat is almost dry, about 10-15 minutes.
4. PREPARE THE SAUCE
Place milk, cheese, nuts, cinnamon and sherry in blender and puree. Add sugar, if desired. Refrigerate at least 30 minutes before serving to thicken.
5. TO ASSEMBLE
Generously stuff each pepper with the warm filling. Bathe in slightly chilled walnut sauce and garnish with pomegranate seeds and chopped parsley. This dish is traditionally served at room temperature.
*Biznaga (also called Acitrón) is candied cactus. Candied citrón or pineapple may be substituted. You will find these at Mexican grocers.

Chef Victor Palma
Photos by Terri Taylor