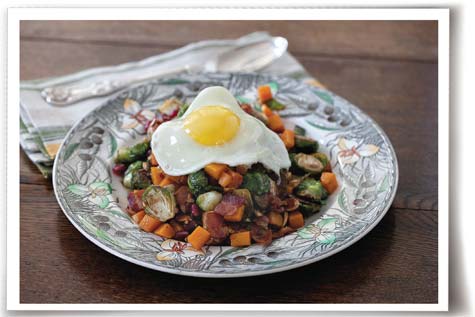 Photo by Kelly Yandell
by Executive Chef Jeff Harris, Bolsa & Bolsa Mercado
Being a chef, and because Spain is one of the most exciting places in the world to eat, I have wanted to visit there for years. Last September, I was lucky enough to get to go to Barcelona and San Sebastian with my wife Tiff any for our honeymoon. Th e Spanish culture largely revolves around food and drink and sharing those things with family and friends. Th e passion Spaniards have for their amazing local products and cuisine is unparalleled. Much of our trip was spent visiting the local markets, eating pintxos (snacks at Basque taverns) and trying various restaurants. Th is recipe is not necessarily derived from a certain dish but more inspired by our two-week immersion in the Spanish culture. It incorporates some of my favorite ingredients.
Serves 2
for warm bacon and sherry vinaigrette:
¼ cup sherry vinegar
1 tablespoon minced shallot
1 teaspoon minced ginger
1 teaspoons fresh thyme leaves
¼ teaspoon kosher salt
¼ teaspoon crushed dried red chile pepper
⅛ teaspoon freshly cracked black pepper
6 ounces thick cut bacon, cut into 1" chunks
⅓ cup olive oil
1 teaspoon Dijon mustard
1 tablespoon honey
Prepare salad:
1 tablespoon unsalted butter
½ cup Marcona almonds, unsalted
1½ tablespoons honey
⅛ teaspoon kosher salt
⅛ teaspoon freshly cracked black pepper
¼ cup olive oil
8 ounces fresh Brussels sprouts, trimmed and halved
4 ounces (about ¾ cup) diced fall squash (butternut, kabocha, Hubbard, or acorn)
¼ cup pomegranate seeds
2 eggs
Prepare vinaigrette:
Place the vinegar, shallot, ginger, thyme salt, chile pepper and black pepper in a small bowl. Set aside while preparing the bacon.
In a large sauté pan over medium heat, add 3 tablespoons of water and the bacon. Cook, stirring occasionally, until the bacon is crisp. With a slotted spoon place the bacon on a plate lined with paper towels and set aside. Whisk bacon drippings into the reserved vinegar mixture along with ⅓ cup olive oil, mustard and honey.
Prepare salad:
Melt the butter in a medium size sauté pan. Add the almonds. Season with salt and pepper and toast slightly until the almonds are golden brown and fragrant. Lower the heat and add the honey. Cook until the almonds are coated with the honey, and the honey begins to thicken. Remove the almonds to a cookie sheet lined with parchment to cool and harden.
In a large sauté pan over medium high heat, add ¼ cup of olive oil. Add the Brussels sprouts face down in the pan and season with salt and pepper. Cook for approximately 3 minutes and add the squash. Continue to cook until both are tender. Remove to a large mixing bowl. Add pomegranate seeds and almonds. Crumble reserved bacon strips over the mixture and then toss with the warm vinaigrette. Divide the salad between 2 plates.
Cook the eggs in a small, non-stick pan over medium heat until the whites are set and the yolks are still runny.
Serve one egg atop each salad.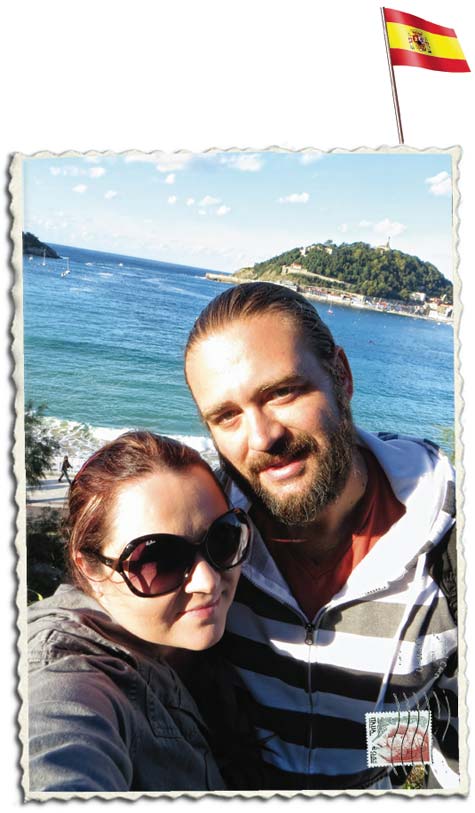 Chef Harris and wife Tiffany enjoying
the wonders of San Sebastian