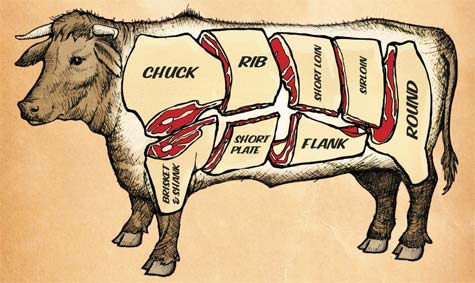 Photography by Kelly Yandell
Illustration by Bambi Edlund
"Check this out," says Acme F&B chef Jeana Johnson, beckoning me toward the restaurant's back bar, separated from the large dining area by a pot bellied stove and a vintage cigarette machine. She lifts a squat coffee table to show me its metal legs shaped like cherubic baby arms. "How cool is that?"
I'm visiting with Johnson and Colleen O'Hare, Acme's chef/co-owners, whom ­ the Dallas Morning News recently named two of the best young culinary talents in the Metroplex. Handling classic cocktails and an inspired wine list are business partners Brooke Humphries and Brianna Larson from Barcadia. Inside the foursome's newest venture, dark farmhouse wood is accented with retro modern wallpaper, and there's a distinct Steampunk motif as industrial pipes twist toward the antique ceiling tiles.
Johnson points to a tall, winding glass tube in the corner, which looks like a cross between a chemistry beaker and an hourglass. ŠThey're proud to be one of the only Dallas establishments to offer Japanese cold brew coffee, and she's eager for me to sample the results. The coffee has an intense aroma and an espresso-like body without the acidity. It's delicious!
"You can tell there's a whimsy about us," says Johnson, her puckish blue eyes drifting toward the din of the kitchen and a phone that hasn't stopped ringing.
If you're not familiar with Johnson and O'Hare, they're the ones who made "gourmet tacos" a buzzword in East Dallas. At their Good 2 Go Taco and at Goodfriend Beer Garden and Burger House, where they help with the food production, the pair has brought a new level of sophistication and excitement to casual cuisine. It's obvious by the weekend crowds that gather early for Good 2 Go's tortillas stuffed with eclectic ingredients like Sriracha-glazed meatloaf and waffle-battered chicken and then reconvene in the evening for Goodfriend's extensive beer list and tasty burgers.
Eagerly anticipated by local foodies, Acme F&B opened in June to plenty of critical ballyhoo as these chefs, long-standing champions of organic fare, took the challenge of creating — ne dining without the pomp. At the core of their vision was something called a "whole animal allocation program," which involves a farmer-friendly approach to utilizing every edible part of an animal. This is in direct opposition to the culinary penchant toward prime cuts, which Johnson and O'Hare have witnessed throughout their careers. If you're still a little confused, you're not alone.
At the core of their vision was something called a "whole animal allocation program," which involves a farmer-friendly approach to utilizing every edible part of an animal. This is in direct opposition to the culinary penchant toward prime cuts, which Johnson and O'Hare have witnessed throughout their careers.

Center Photo (left to right:) Kenny Chandler, Jeana Johnson,
Colleen O'Hare, Matt Hamilton
"The first week we were open," says Johnson. "We had a gentlemen who demanded to go into the walk-in because he wanted to see this whole cow hanging there. He was in disbelief that we could buy a whole animal, store a whole animal and have the mechanics to break it all down. He asked, 'Do you have a band saw or something?'" No, there are no bovine slabs swinging from hooks here. They leave the artisanal butchering to the experts. In this case, Matt Hamilton of Local Yocal Farm to Market in McKinney, whose butcher shop specializes in custom cutting grass-fed, hormone- and antibiotic-free pork, lamb and cattle. The animals are raised on Hamilton's family ranch in southern Oklahoma and at Sloans Creek Farm, owned by Nathan and Ellen Melson, in Dodd City, just south of the Texas/ Oklahoma border.
Hamilton and his Local Yocal business partner, Kenny Chandler, joined us at the restaurant to further explain the unique partnership they have developed with Johnson and O'Hare.
Their history dates back to 2009 when Good 2 Go Taco was operating out of the back of ‑ e Green Spot near White Rock Lake. Looking for local pork purveyors to collaborate with, Johnson and O'Hare visited Sloans Creek Farm and were immediately sold. They were particularly impressed with the humane treatment of their animals and the all-foraged diet of their heritage breeds, including Red Wattle Hogs.
"We asked them," says O'Hare. "What do you have an absolute ton of?"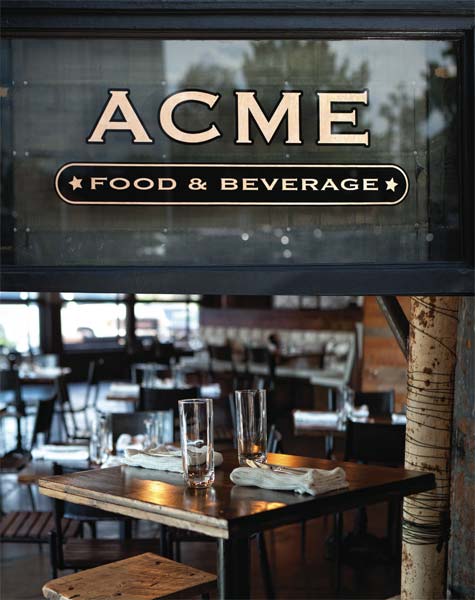 The farm had an abundance of ground pork that other restaurants didn't have the interest or foresight in utilizing. Their minds spinning with possibilities, the chefs bought it all.
It was after they moved Good 2 Go into a larger storefront on Peavy Road and finished designing the menu for their next endeavor, Goodfriend, that they began seriously considering buying whole animals and dividing the cuts between their respective restaurants. "I've worked with chefs in the past who have tried to use farm-raised products," says Johnson. "But they only want that perfect, bone-in pork chop; they're only using 10% of the animal. The farmer is stuck with 80 or 90% of an animal—pork bones, ground, fresh hams, belly; they've got shoulders. They've got all this meat that restaurant X doesn't want. Colleen and I were talking about what a shame it was that this farm was stuck with this meat. What could we do to be better? It's okay to be farm friendly, but it's better to be farmer friendly."
Through their relationship with Sloans Creek, the chefs learned of Matt Hamilton's butcher shop and his grass-fed Genesis beef. Grateful for the introduction, Hamilton was thrilled at the prospective of working with chefs who were sensitive to the needs of small producers.
According to Hamilton and Chandler, local farmers and ranchers raising small herds have also been stymied by the lack of local meat processors. To wrestle control of the final stage in the harvesting process, Local Yocal began partnering with Jack's Wholesale Meats (now Bluebonnet Meats) in Trenton, a small East Texas town a 30-minute drive from his McKinney butcher shop. Heading Jack's are the brother and sister team of Ben and Hannah Buses who were trained by the legendary animal welfare expert, Temple Grandin. Hamilton and Chandler also hired two butchers with 50 years of combined experience to handle the master cutting at their shop. Now with a finished product they could legitimately call "local," they just needed a customer who was willing to pay higher prices for assurances of quality. "The circle was complete when they found chefs O'Hare and Johnson.
Hamilton acknowledges how rare it is for a restaurateur to attempt what Johnson and O'Hare are implementing at their three very different dining spots. "There's a study that found 60 to 100 strands of DNA in the ground beef at fast food restaurants," says Hamilton. "In theory, you could sit down with a burger and be eating pieces and parts from 20 to 50 or 60 cows. OR you could go to three restaurants in one day and eat beef from the same animal. When you eat a burger at Goodfriend, it's from one animal. When you eat a taco at Good 2 Go Taco, it's from one animal. And then at Acme, it's from the same animal. It's not blends. It's not hundreds of animals. One animal."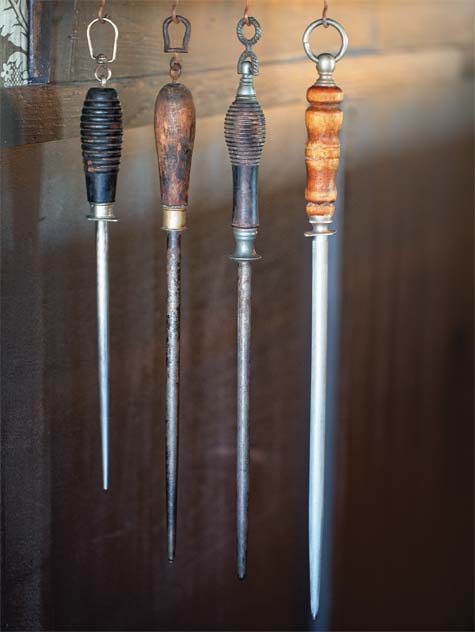 Though an appealing proposition, this philosophy requires a certain amount of flexibility on the parts of chefs, a restaurant's wait-staff and its diners. "It switches it up for people," says O'Hare. "But it's also been a big learning curve, especially for the diners."
The menu at Acme F&B changes four to five times nightly. As one cut of meat runs out, the chefs simply alternate with another. A New York Strip might be swapped for a Rib Eye or braised Short Ribs or steak tartare. Daily, the chefs tweet their menu based on what's available and in season. From off- unused parts, Offal Croquettes, one of Acme's signature appetizers, is a blend of beef tongue and sweetbreads served with Gribiche sauce.
"It's okay to be farm friendly, but
it's better to be farmer friendly."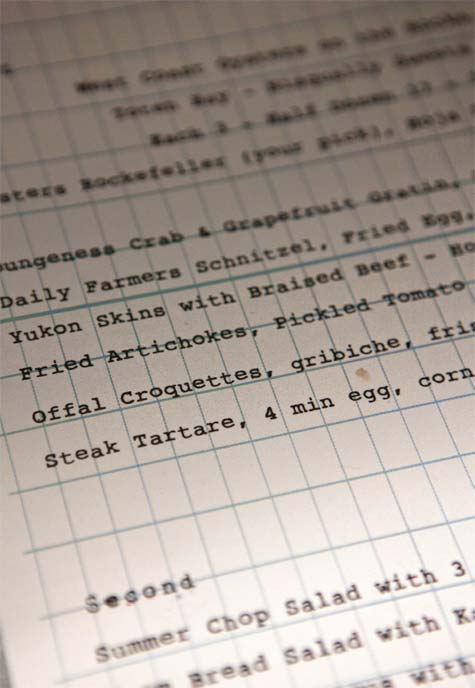 This might seem like radical new terrain, but Johnson doesn't see it that way. "People throw out big terms like 'revolutionary' but what they're missing is that this is the way it was supposed to be. I was raised in a really small town in East Texas and if you killed an animal, sometimes you had steak and sometime you had meatloaf. We're not reinventing anything."
"When you're in a society where people are used to their Venti caramel mocha cookie crumble Frappuccino every day, they get set in their ways," says Johnson. "We're asking that our customers trust us. We might not have that ' let you had last week. ­ at ' let you had last week was amazing. But this next new thing is going to be extra delicious, too."
RECIPE
Rolled Cranberry-Glazed Beef Brisket with Braised Red Cabbage
Acme F & B
4900 McKinney
214.443.0003
acmefandb.com
For more information on Local Yocal:
localyocalfarmtomarket.com/salusspur-specialty-meats
CHRIS HUGHES is a graduate of the University of Texas where he had four glorious years to ponder the enigma, "What do I do with an English degree?" Since then he's spent 10 years in sales and marketing for the wine industry. The perk of eating out at some of the country's best restaurants led to an obsession with food as well as specialty coffee, wine and beer. Currently, he's a student at Emerson College pursing his Masters in Publishing. Look for his online contributions for Boston Magazine.