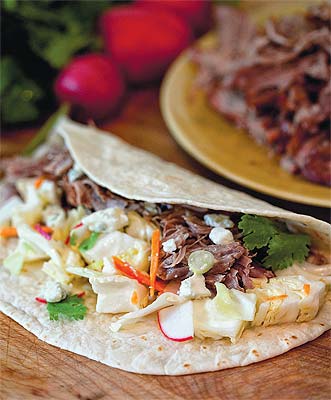 photos by Kelly Yandell
Jeana Johnson and Colleen O'Hare, Good 2 Go Taco, Dallas
6-8 servings
At a small shopping center in East Dallas, there's a line out the door at Good 2 Go Taco. This gourmet taquería is the brainchild of Jeana Johnson (Stephan Pyles, Hibiscus) and Colleen O'Hare (York Street, Green Room) "We knew from being in fine dining that restaurants were only using the prime cuts and leaving the farmers with three-quarters of the animal," said O'Hare. "We wanted to be farmer friendly and turn those other cuts into delicious, creative tacos." One of their biggest hits has been the Swine Blue Taco, made with braised pork shoulder from Sloans Creek Farm. Their Red Wattle hogs, a Texas heritage breed, are known for their lean meat and rich flavor. The meat is slow-cooked until it is pull-apart tender and then wrapped in a warm tortilla with crunchy blue cheese slaw and creamy blue cheese dressing. Yum—so who said pork shoulder wasn't prime?
For pork
5 pounds pork shoulder, bone-in or boneless
2 tablespoons kosher salt
2 tablespoons ground black pepper
1 onion, cut into ¼" rings
4 Roma tomatoes
2 jalapeños
10 cloves of garlic
Stock (ham or chicken)
For slaw
4 cups cabbage (small diced)
½ cup small diced or shredded carrots
¼ cup thinly sliced scallions
¾ cup quartered and thinly sliced radishes
1 cup loosely-packed, chopped cilantro leaves
For vinaigrette
2 shallots
1 cup red wine vinegar
2 tablespoon Dijon mustard
1 1/2 cup pure olive oil (no extra virgin)
1 cup blue cheese crumbled (reserve ½)
2 teaspoons kosher salt
2 teaspoons freshly ground black pepper
For serving
Warm tortillas (corn, flour, wheat or pro-biotic)
To Make Pork
Light or turn on grill and keep at medium heat.
Cut pork into 1 pound pieces and season with kosher salt and ground black pepper.
Lay the onions on the grill and cook until charred but not burnt. The tomatoes and jalapeños are cooked the same way.
Place all of the vegetables with the garlic into a Dutch oven, braising pan or crockpot.
Grill pork for about 12 minutes, turning to get a nice char on all four sides, about 4 minutes on each. Don't be afraid of the crispy black bits, they add flavor.
When finished, place the pork on top of the vegetables and add enough stock to cover the meat ¾ of the way (this will vary depending on your cooking vessel).
Cover the pot with plastic wrap (that's right) and foil. If there is a lid, place that on top also. Cook in a 275°F oven for 8 hours or in a crockpot for 1 hour and then on low for 7-8 hours.
Once finished, pull off the pieces of excess fat and pull the meat apart. It will shred naturally. Season to taste.
To Make Slaw
Mix all of the vegetables together and dress with the vinaigrette until wet but not saturated. You will have leftover vinaigrette, however once the slaw is mixed it will only be good for that meal.
To Make Vinaigrette
Place the shallots, vinegar and Dijon into a blender or use an immersion blender.
Slowly drizzle in the olive oil and blend until emulsified.
Next add ½ of the blue cheese, salt and pepper and blend thoroughly until chunks have disappeared.
To Assemble Tacos
Heat your choice of tortillas in a pan with oil, in the microwave or on the grill (grilling is our method in the restaurant).
Inside warm tortilla, place a mound of pork, then a scoop of blue cheese slaw and top with blue cheese crumbles.