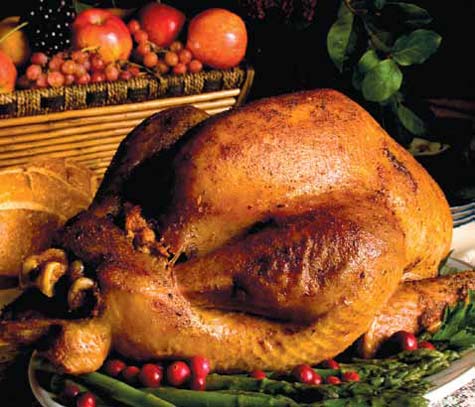 BASIC BRINE
1 cup sea salt
1 gallon water
1 cup raw sugar or honey
1 bunch fresh sage
1 bunch fresh thyme
3 tablespoons black pepper
Bring all ingredients to a boil; remove from heat and refrigerate. Placed thawed turkey in a deep roasting pan that is large enough to allow most of the turkey to be submerged in the brine, or use a commercially available brining bag. We use a five-gallon food grade plastic bucket. If you use just the pan, cover with plastic wrap and refrigerate (or put in an ice chest if your refrigerator is full). Turn the turkey in the brine every few hours if it is not fully submerged. Keep turkey in brine for 12 to 24 hours.
PREPARING THE TURKEY FOR COOKING
When it's time to cook the turkey, lift it out of the brine, rinse with cold water and dry with paper towels. Use the following herbed butter recipe to prepare the turkey for roasting. Slide a small rubber spatula between skin and meat to separate them. Insert half of the butter mixture under the skin and spread evenly.
Rub the remaining butter mixture on the outside of the skin. Truss the bird loosely with twine, season with salt and pepper and place in roasting pan. Add one cup of stock and roast until internal temperature of the thickest part of the breast reaches 165°. The turkey should be loosely covered with foil for part of cooking time to help retain moisture. The foil should be removed so the skin can be beautifully browned and crisp by the time the turkey is done. Be sure to baste the turkey often with the juices from the bottom of the pan.
Roasting times at 325º
Begin to check for doneness 30 minutes before suggested cooking time.
8–12 lbs.: 2–3 hours 12–16 lbs.: 3–4 hours 16–20 lbs.: 4–5 hours
HERBED BUTTER
8 tablespoons softened unsalted real butter
¼ cup extra virgin olive oil
1 teaspoon chopped garlic
1 teaspoon chopped thyme
1 tablespoon lemon juice (optional)
1 tablespoon chopped shallots
1 tablespoon chopped chives