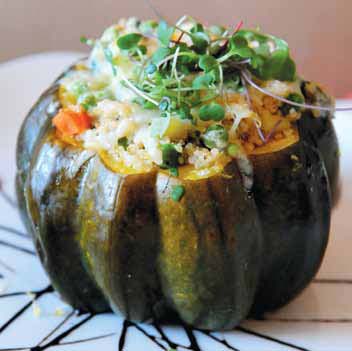 Serves 4
2 cups quinoa, toasted
4 cups water
2 cups mixed spring peas, parsnips and carrots, diced and blanched
½ cup grated Asiago cheese (plus a little extra for sprinkling on top)
2 cups baby spinach
½ cup mushroom stock, chicken stock or water
4 acorn squash
1 cup balsamic vinegar
Preheat oven to 450°. Cut the top off the squash and use a spoon to scoop out seeds. Place squash upside down in a pan with one inch of water in it. Cover with foil and place in the oven until cooked through (about 30 minutes). The squash is cooked when you can stick a fork in it, and it goes in easily. Set squash aside and reduce oven temperature to 350°.
Toast the grain (quinoa) in a dry skillet for five minutes before cooking to give it a delicious roasted flavor. To cook, use 2 parts liquid to 1 part quinoa. Combine the liquid and toasted quinoa in a medium saucepan, bring to a boil, reduce to a simmer, cover and cook until the grains are translucent and the germ has spiraled out from each grain, about 15 minutes.
Combine veggies, quinoa, mushroom stock, spinach and Asiago cheese in saucepan. Cook until thoroughly heated. Fill squash with mixture and top with extra cheese. Place in oven set at 350° for about 10 minutes.
To serve, place squash on serving plate and garnish with micro greens and a drizzle of balsamic reduction.
(Balsamic reduction: Slowly cook 1 cup of balsamic vinegar in small saucepan over medium heat. Turn the heat to low and reduce to ½ cup. As it cools, the vinegar will thicken to a syrup.)