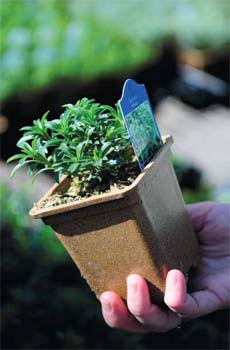 Autumn is a season of abundance in North Texas. Our cool season gardens—when the weather is milder and the rainfall more plentiful—can be much more productive than those of summer. Maintenance is much easier during the fall as well.
September and October are prime planting times for many vegetable varieties. September 1st should be your target date for direct seeding English & edible pod peas into the garden. You can plant transplants of broccoli, cabbage, cauliflower, Chinese cabbage, collards and kohlrabi starting mid-September through early November. Direct seed any of the salad greens from September through October and continue planting transplants through November.
October is the best time for Texans to plant garlic cloves. Purchase garlic for planting at your local garden center, where you'll find the best varieties for our area. Split the bulb into individual cloves, then plant about one- to two-inches deep and about three- to six-inches apart. Cloves must be planted in the fall in order for them to receive the required chilling time to form bulbs. Garlic bulb formation occurs in response to exposure to one or two months of soil temperatures between 32°F and 50°F, followed by the lengthening days of spring once shoots have emerged. If you want to grow onions, you can start them from seed during fall. You'll have to wait until January to plant onion slips or sets (transplants).
Autumn is also a great time to plant cool season herbs such as chamomile, chervil, chives, cilantro, comfrey, dill, fennel, fenugreek, lemon balm, parsley and many more. These herbs will continue growing all the way through winter and the following spring. Don't forget that some evergreen herbs, such as curled parsley and blood sorrel make great ornamentals in the autumn & winter garden. Mix them with pansies, violas and Dusty Miller for a striking combination. Make sure to amend your vegetable and herb beds with plenty of organic compost before planting. Be sure to fertilize your veggies and herbs with an organic vegetable fertilizer. Typically, you'll fertilize plants at planting time and then again once plants begin to flower or fruit. Remember that more nitrogen will encourage leafy growth, and more phosphorus will encourage root and fruit development.
And don't forget about fruit. Autumn and winter, when berries and fruit trees go dormant, is the best time to plant. By planting when it's cool, you'll give them plenty of time to establish before the onset of summer heat. Fruit trees that do well in our area include fig, pear, peach, plum and pomegranate. While apples and cherries don't fare quite as well in our climate, there are certain varieties that can be grown with some extra TLC. Citrus trees can also be grown here, but usually require some winter protection. Blackberries are probably the easiest of berries to grow, followed by strawberries, raspberries and grapes, all of which perennialize for us.
Leslie Finical Halleck is the General Manager of North Haven Gardens in Dallas. Visit her blog at www.growlively.typepad.com.
LESLIE FINICAL HALLECK received her B.S. in Biology/Botany from University of North Texas and her M.S. in Horticulture from Michigan State University. From 1992- 1996, she worked garden center retail and ran her own small gardening business. In 1998, she joined the Dallas Arboretum, first as Curator of Plants and then Director of Horticulture Research, a joint position with Texas A&M University. In 2005 she joined North Haven Gardens in Dallas as their General Manager. Over the last 13 years, she's written for scientific, trade and popular garden publications and regularly lectures and teaches gardening programs. www.growlively.typepad.com/