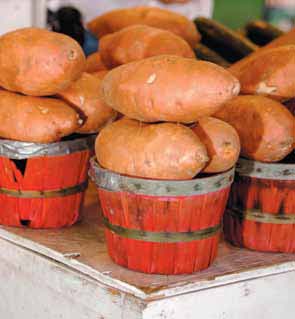 From Mary Wilhite, a lighter, fluffier, less sweet version of the traditional Thanksgiving casserole.
Serves 8-10 people
3 cups cooked sweet potatoes, mashed
½ cup sugar
2 eggs, lightly beaten
3 tablespoons melted butter
½ cup half & half
1 teaspoon vanilla
½ teaspoon salt
Topping:
3 tablespoons melted butter
½ cup firmly packed brown sugar
1/3 cup all purpose flour
1 cup toasted pecans, chopped
Combine all ingredients and spoon into greased 9x11in baking dish. Cover with topping and bake at 350° until set. Mary Wilhite is co-owner of Blue Moon Gardens, a retail garden center near Tyler, selling pesticide-free vegetable, herb and fruit plants, as well as cottage flowers, natives, perennials and shrubs. For more recipes and gardening tips, call the store at 903.852.3897 or visit www.bluemoongardens.com.