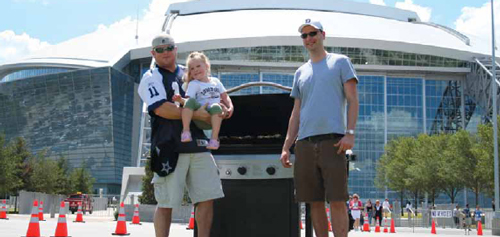 Throw on a hat, pack the lawn chair, and fill the ice chest with beer and goodies. It's tailgating season in Texas, y'all.
With the turning of leaves and the cool, crisp weather of fall comes the much-anticipated start of a new football season. In Texas what happens off the field gets as much hoopla as what happens on the gridiron. Die-hard enthusiasts will tell you that tailgating started in the late 1800s at a game between Rutgers and Princeton, while others, just as serious, will tell you that it all began in the early 1900s at Yale. There is probably no definitive answer, and who really cares? It's enough to know that tailgates provide an avenue to mix, mingle, share stories and libations, and, most importantly, trade food.
Across the country, easy-to-prepare delicious regional foods top the tailgate menu. Try brats in Chicago or cheese steaks in Philadelphia. Go for chowders in New England and veggie burgers in San Francisco. Locally, Texans pride themselves on beef, beef and more beef, and here, Tex-Mex isn't just a fad, it's a fact.
"We get about 4 pounds of fajitas from La Michoacana," says Trey Segner, 27, a self-proclaimed hard-core Dallas Cowboys tailgater who began the tradition, which he now carries on with friends, with Dad, Milo Segner and brother Taylor in the 90s. "For morning games, we like to cook breakfast burritos with Italian meat from Jimmy's."
With propane woks and grill in tow, Segner and team set off to the stadium, keeping their minds on the game, but their focus on food. La Michoacana Meat Market is the go-to spot for pre-marinated fajitas and home-made flour tortillas. Jimmy's Food Store at Bryan and Fitzhugh is the not-so-well-kept secret of foodies and local chefs alike. It's a must-do for Italian meat fanatics.
Segner tops off his cuisine du jour with homemade guacamole, mouthenchanting bacon-wrapped stuffed jalapenos, hot dogs and sausage links, bringing plenty for many but always saving a little room for more.
"If I smell something good, I walk over and trade," Segner says. With an everyone-knows-everyone-else atmosphere, food trading is encouraged and jibes at the opposing team are de rigueur.
"There's a group of at least 30 people that I know by name who tailgate in our general area," Segner says. Tiger, the well-known heckler and impromptu pep-rally starter, was a regular of the Gate 6 tailgaters at the now-empty Texas Stadium. Everyone knows his name. "He's done that for as long as I can remember," says Segner. "There were probably about 1,000 people at the pep rally at the last Cowboys game against the Ravens, and people got emotional."
Tailgating friends are like family, and each season there's a reunion with the same faces sharing the same laughs. This next season will undoubtedly welcome some brighter characters and new friendly faces.
KARINA SANCHEZ is a Dallas, Texas-based freelance writer and editor. Her portfolio features writings for a variety of industries, including fashion, food, travel and interior design. Growing up with a family-owned restaurant (the Gold Rush Cafe) and running a muck in local food circles, she not only has enjoyed an experience of different cuisines, but has also garnered a taste for simple foods that pack a punch. Not yet deemed a food connoisseur, she is, by all means, a lover of flavors and all things tongue-tempting.