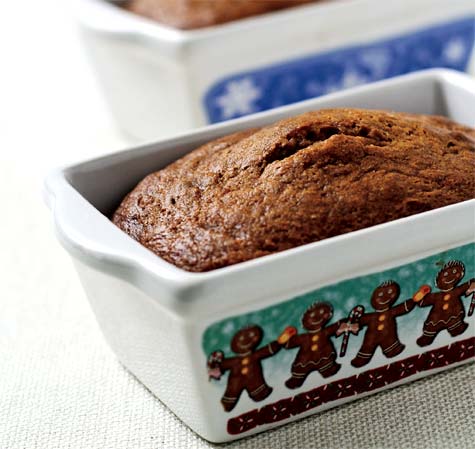 BY NAVA ATLAS FROM VEGAN HOLIDAY KITCHEN
This seasonal treat makes a nice gift to bring when you visit friends and relatives; it's also an easy everyday treat, full of nutritious ingredients, to make and enjoy at home. A mug of hot cocoa is the very best companion for this.
Makes 3 mini-loaves
1½ cups whole wheat pastry fl our
½ cup natural granulated sugar
1 to 2 teaspoons ground ginger, to taste
2 teaspoons cinnamon
2 teaspoons baking powder
½ teaspoon baking soda
1 cup smoothly pureed cooked sugar pumpkin or winter squash (see note)
2 tablespoons unsulfured blackstrap molasses or maple syrup
2 tablespoons safflower oil
2 tablespoons orange or apple juice, or as needed
⅔ cup raisins or currants
⅓ cup finely chopped walnuts or pecans, optional
Preheat the oven to 350°F.
Combine the first 6 (dry) ingredients in a mixing bowl & stir together. In another bowl, combine the pumpkin puree, molasses, and oil and whisk together until smooth. Make a well in the center of the dry ingredients and pour in the wet mixture. Stir together until completely mixed. If the batter is too stiff to mix, add a very small amount of juice to loosen it a bit, but it should remain thick. Stir in the raisins or currants and the optional walnuts.
Divide the batter among three lightly oiled mini-loaf pans. Bake 20 to 25 minutes, or until a knife inserted into the center tests clean.
Note: If you're baking sugar pumpkin or squash—butternut is the best for this—for another purpose, save a cupful to puree and add it to the batter. Otherwise, organic canned pumpkin works well and is quite a time-saver.
Reprinted with permission fr om Vegan Holiday Kitchen © 2011 by Nava Atlas, Sterling Publishing Co., Inc. Photographs by Susan Voisin.