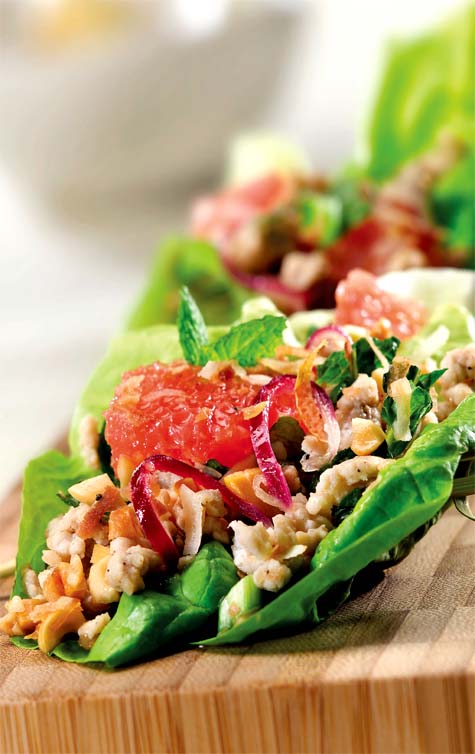 Recipe & photo from TexaSweet
A quick meal with lots of flavor: buttery lettuce leaves are topped with gingery ground pork and Asian-spiced grapefruit salad.
Serves 4
2 tablespoons fish sauce
2 tablespoons fresh lime juice
1 tablespoon dark brown sugar, packed
3 tablespoons unsweetened coconut, shredded
1 Texas Rio Star Grapefruit
3 tablespoons roasted, salted peanuts, chopped
½ cup fresh mint, coarsely chopped
2 teaspoons sriracha sauce
4 green onions (white & part of green), thinly sliced
2 tablespoons peanut (or vegetable) oil (divided use)
1 pound lean ground pork
1 ½ teaspoons finely grated peeled ginger
1 medium red onion, thinly sliced
8-10 large Boston Bibb (Butter) lettuce leaves
Mix fish sauce, lime juice and brown sugar in a bowl; set aside. Lightly toast the coconut in a small skillet over medium heat; cool. With a sharp knife, peel and section grapefruit. Toss sections in a bowl with coconut, peanuts, mint, sriracha and green onions.
Heat 1 tablespoon of oil in a large skillet over medium heat. Add the pork and cook without browning, 4-5 minutes. Drain meat, transfer to a bowl and set aside. Pour remaining oil into the skillet and over high heat, cook ginger and red onion until softened, about 1 minute. Transfer cooked onions/ginger to bowl with pork. Add the fish sauce and gently toss. To serve, place a mound of pork mixture on each lettuce leaf. Top with a large spoonful of grapefruit salad.