An Edible Enterprise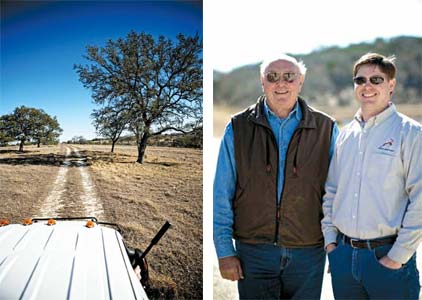 Photography by Jody Horton
In 1983, when Mike Hughes went into the wild game meat business, there was no such thing.
Americans ate what they harvested during hunting season, but venison and antelope seldom appeared on restaurant menus. Mike had lived and worked in Europe, and there it was a different story—chefs were thrilled to get their hands on ingredients then considered exotic in the United States.
"I didn't know anything about the restaurant business," Mike remembers, "but my idea of market research is take what you've got, offer it to people and see if they'll buy it."
Then 43 years old, Mike had spent his professional life as a commercial diver on everything from offshore oil platforms to underwater salvage operations. By taking what he had and offering it to others, he'd grown his diver-for-hire business into Oceaneering International, a Houston-based multi-national corporation. But when he realized he was spending more time in boardrooms than underwater, he resigned and moved to a 720-acre ranch in Ingram, Texas. Still, he had no intention of settling or slowing down.
Shortly after forming Broken Arrow Ranch, Mike found himself lugging an ice-chest full of Central Texas venison through mid-town Manhattan on his first official sales call. "I figured I'd visit some of the restaurants I'd been reading about, show them the meat, see what happened," he says. A chef at the Four Seasons welcomed him into the kitchen and placed an order. A half-dozen other high-end restaurants followed.
At the iconic French restaurant Lutèce, Andre Soltner—an early incarnation of the celebrity chef—agreed to hear Mike's spiel, but he wasn't exactly overflowing with Texas hospitality.
"He says 'whaddaya got?'" Mike recalls. "I open up my ice chest. He lifts up a deer leg, pokes at it. It's Axis deer, from Asia, nothing European about it—very plump but not fat, kind of like the difference between a quarter horse and a thoroughbred. Finally, he says `Zis is not venison! It's against nature!' I tell him it's the best-tasting venison in the world. When I give him the price, he says 'sacre bleu! You must understand, we need to make ze profit!'"
Histrionics aside, Soltner ended up buying the venison—a testament to both the quality of the product and Mike's talent at selling.
Back at home, Mike rounded up a cartel of local ranchers and worked on novel ways to harvest deer and antelope from their lands. New Zealand meat producers were farming deer, and a few American entrepreneurs were experimenting with domesticating everything from elk to reindeer, but that wasn't how Mike wanted to do it—the terrain was all wrong, and trapping and transporting deer or antelope produced too much adrenaline, which ruined the taste of the meat.
The Hill Country wasn't a good place to farm game, he decided, but it would be a great place to ranch it. Much of the land, including his own, was overpopulated with Axis deer and Nilgai antelope— Asian species imported to Central Texas in the mid-twentieth century. Most ranchers were happy to have their herds thinned by a company that would pay for the privilege, and Mike's method was the epitome of low-impact hunting. Animals were felled with a long-range single shot to the head, then dressed on-site in a high-tech mobile processing vehicle. Back at the Broken Arrow office in Ingram, cuts were custom-aged, flash-frozen and shipped off to restaurants.
"We were the first to do it," Mike says.
"Others tried it, but it didn't work. So we're the first and only."
These days, Broken Arrow harvests game from over a million acres in Texas and sells to nearly 800 restaurants, as well as a growing number of home cooks who order online. Clearly, free-range meat that's humanely harvested, medication- and hormone-free and very low in fat (2%!) is a hot commodity. Mike's son Chris, who took over as Broken Arrow CEO five years ago, has always been intrigued by the family business.
"I remember eating in Emeril's kitchen when I was a kid, and Dad went to talk to him about meat," Chris says. "When Dad brought chefs out to our ranch, I got to be in the kitchen with them, helping them prep. For a long time I thought I might become a chef myself."
Instead, he joined a Houston ad agency, worked in the Balkans for NATO, got his MBA and finally ended up back in Ingram, exactly where he felt he belonged. Immersing himself in day-to-day operations, Chris revamped the company website as part of a plan to market to more individual customers. But he also went on countless deer and antelope hunts, talked to chefs and ranchers and helped his father negotiate a labyrinth of Texas Department of Health and USDA regulations. Perhaps the most notable bureaucratic wrangle occurred when the Hugheses decided to trap feral hogs to sell as wild boar.
"Our wild pork label had to be approved in Washington, and I'm talking about the meaning of every word," Mike recalls. "I sent in my application and got a call from a lady at the USDA. She wanted to know if all the pigs were male. After all, the label said boar. I said, well, you got me there. Then she asked if we could prove the hogs were 'wild,' because a meat inspector needed to come out and confirm that."
Feral hogs are notoriously hard to track, let alone trap, and their legendarily vicious dispositions seemed to qualify them as wild, if not downright savage. But could this be explained, scientifically, in writing, to a USDA inspector? Mike said he'd try.
"Dad took out a dictionary and tried to find a definition," Chris recalls. "He sat there and wrote for at least an hour."
"I mumbled on paper, basically," Mike remembers. "Finally, I offered to trap a hog. If their inspector could stay in a pen with it for sixty seconds, we'd agree that it wasn't wild. And that's the letter I sent." One week later, the label was approved, verbatim. Later, on a trip to Washington, Mike popped in to see the official who'd asked him to define "wild" and was stunned to see a framed copy of his letter hanging alongside far more serious commendations and certificates.
Apparently Mike had become a bit of a celebrity at the USDA office. "About thirty people came out to meet me," Mike says. "I answered questions like… 'Now Mr. Hughes, do people actually eat deer in Texas? How do they do that?'"
Chris' responsibilities and reputation have been a little more prosaic so far. "I go to a lot of food shows and hand out a lot of sausage slices," he says. "There's a huge foodie movement, and those people want recipes. Plus, they want to know if the animals were humanely raised, and they absolutely are. They don't come into contact with humans until they die, and when you think about it, that's pretty humane."
ROBIN CHOTZINOFF is the author of the books Holy Unexpected and People With Dirty Hands. She has a weakness for food, gardens and cycling.