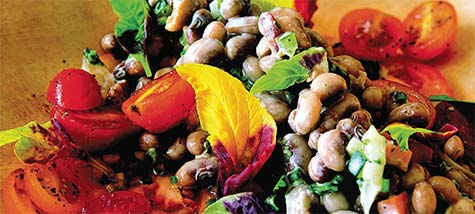 By Chef Dean Fearing from The Texas Food Bible
This summer salad from iconic chef Dean Fearing's new cookbook features three seasonal favorites: tomatoes, two varieties of cowpeas and jalapeños.
Serves 4
Salt
1 cup purple hull peas
1 cup lady cream peas
1 teaspoon olive oil
¼ pound applewood-smoked bacon, cut into small dice
¼ cup finely diced celery root
¼ cup finely diced carrot
1 tablespoon minced shallot
1 tablespoon finely diced onion
1 tablespoon seeded and minced jalapeño chile
1 teaspoon finely chopped fresh thyme
2 cups baby arugula, stems removed
½ cup Barbecued Thousand Island Dressing
Freshly ground pepper
2 medium heirloom tomatoes, peeled, cored, & cut crosswise into ½-inch thick slices
8 fresh basil leaves
Fill a medium saucepan with enough cold water to fill the pan halfway. Stir in a pinch of salt and place over medium- high heat. Bring to a boil and add both the purple hull and the lady cream peas. Boil for about 5 minutes, or just until the peas are tender. Remove from the heat and drain well. Set aside.
Heat the oil in a medium frying pan over medium heat. Add the bacon and fry for about 4 minutes, or until just crisp. Add the celery root, carrot, shallot, onion, and chile and cook, stirring constantly, for about 3 minutes, or just until the vegetables soft en. Remove from the heat and stir in the thyme. Set aside to cool.
Combine the reserved peas and bacon mixture with the arugula. Add the dressing, season to taste with salt and pepper, and stir to combine.
Place 2 tomato slices in the center of each of four large salad plates. Spoon an equal portion of the field pea salad on top of the tomatoes. Tear the basil leaves into random pieces and distribute evenly among the plates. Serve immediately.
BARBECUED THOUSAND ISLAND DRESSING
Makes about 2 cups
1 cup mayonnaise
½ cup Texas-Style Barbecue Sauce or other smoky barbecue sauce
2 tablespoons ketchup
1 tablespoon distilled white vinegar
1 tablespoon fresh lemon juice
1 hard-boiled egg, peeled and finely chopped
2 teaspoons sweet pickle relish
1 teaspoon finely minced white onion
1 teaspoon dry mustard powder
1 tablespoon minced capers, well drained
1 teaspoon minced garlic
1 teaspoon Worcestershire sauce
1 teaspoon chopped fresh fl at-leaf parsley
1 teaspoon snipped fresh chives
Salt
Freshly ground pepper
Put the mayonnaise in a small bowl. Stir in the barbecue sauce, ketchup, vinegar, and lemon juice. When blended, add the chopped egg, relish, onion, mustard powder, capers, garlic, Worcestershire sauce, parsley, and chives and stir to mix thoroughly. Taste and season with salt and pepper. May store, tightly covered and refrigerated, for up to 3 days.
Excerpted from the book THE TEXAS FOOD BIBLE by Dean Fearing. © 2014 by Dean Fearing. Reprinted by permission of Grand Central Publishing. All rights reserved. Photo by Ben Garrett Photography.
Chef Dean Fearing is the author of THE TEXAS FOOD BIBLE, © 2014, Grand Central Publishing.