Eden's Garden CSA Farm
Photography by Teresa Rafidi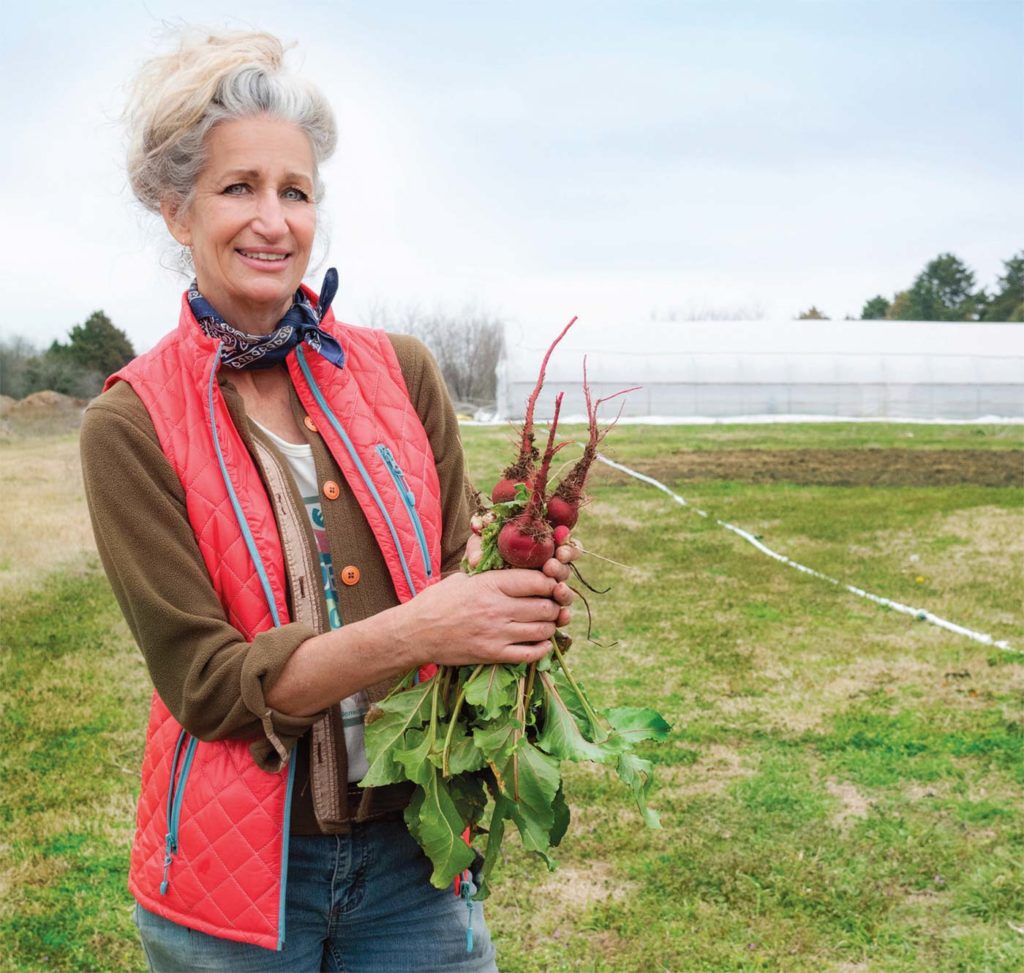 From growing up with a cement slab backyard, just outside of Chicago, to owning her own 14-acre farm in Texas – years ago if you would've given Marie Tedei a sneak peek into the life she's living today, it's safe to say she'd call your bluff. Not solely due to the fact that day in and day out she's surrounded by nature and animals in Balch Springs, but because her passion for growing things evolved into the business of farming. And she's one of the few women in DFW doing it all on her own.
"When I first opened up my garden center I was in Northeast Dallas, but I've been here since 2007," Tedei said, speaking of her Pioneer Road location. "During this time her focus was on the ornamental side, a fondness birthed during her childhood.
"I planted tulips one year when I was 15 or 16 years old," Tedei recounts. "I was fascinated with how a plain-looking seed would create such beauty. That's really what hooked me." But after attending a Texas Organic Farmers and Gardeners Association (TOFGA) conference, she unexpectedly shifted gears. Tedei was asked to speak as a landscaper. When she ran into the TOFGA president at the time and mentioned her 14-acre homestead– where she also lives, "You're not growing food?" was his response.
"I told him, 'I'm not a farmer,'" Tedei admits. "But he really encouraged me. He said there was a big need, which I knew. So I decided to give it a try."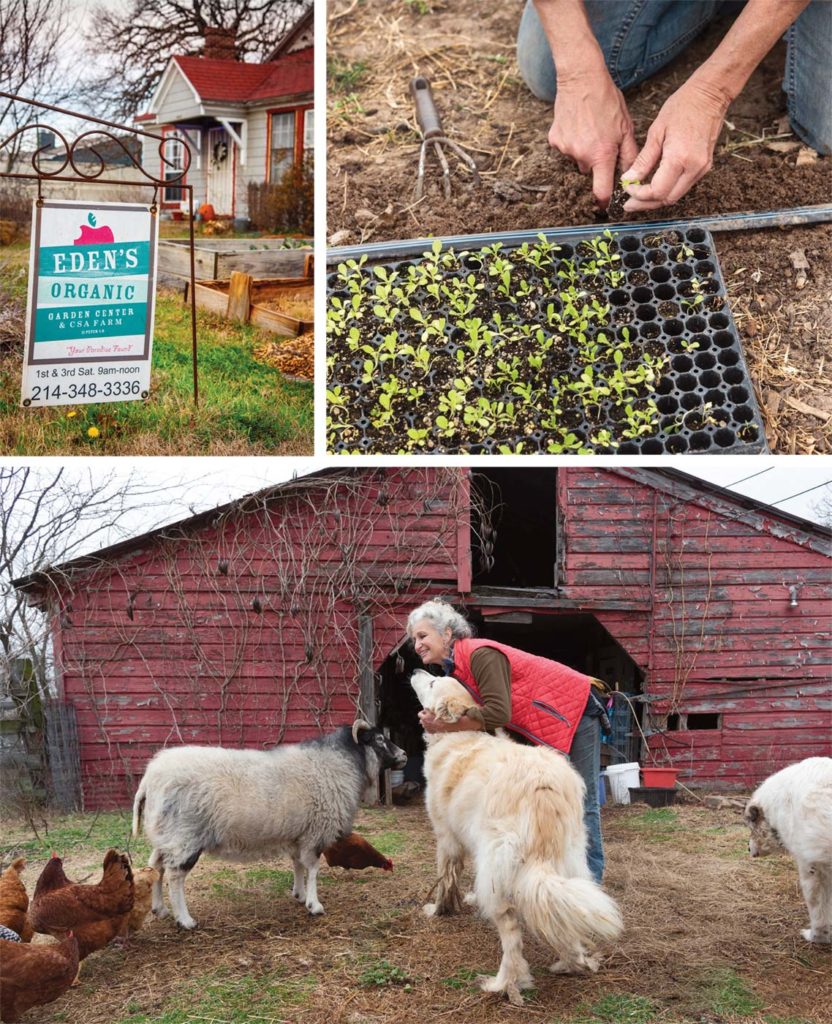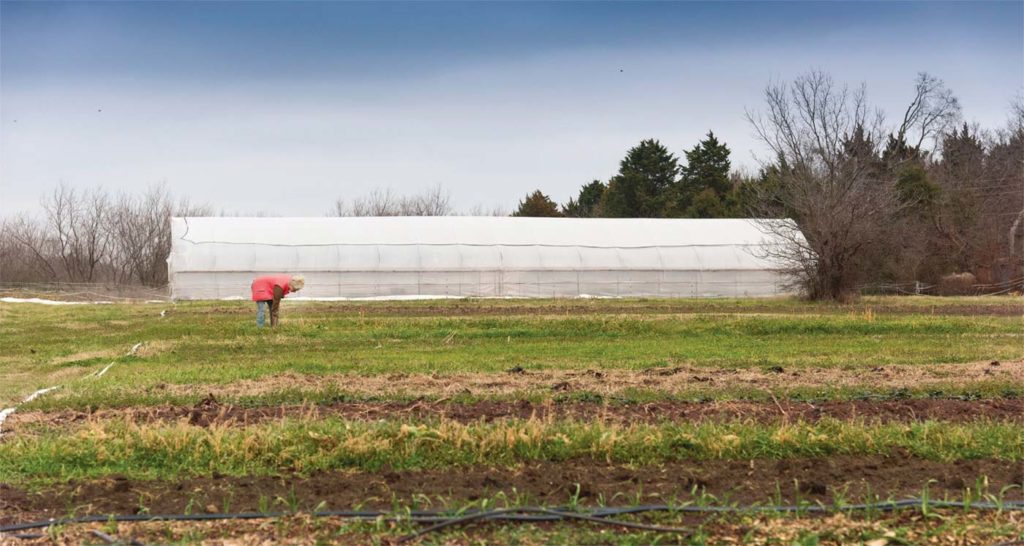 Another nudge came from the book, Sharing the Harvest, a tip given to Tedei from a TOFGA member. "It was written by two women who pretty much brought Community Supported Agriculture (CSA) to this country and I was just so inspired," Tedei said. "We really take food for granted. I had a new and deep respect for farmers. I wasn't sure I could ever live up to this newfound feeling, but I was going to grow."
So, using what she learned from reading, other farmers, You- Tube, and with support from garden center customers, Tedei began her CSA and farming journey. "It started out much larger than where it is now," she said. "I think we started with about 80 people, but I knew I couldn't grow for that many, so I scaled it down to 40 shares. The first season was a disaster, I didn't really know how to grow like a farmer." But over time success came, in more ways than one.
"My CSA is smaller now, but steady," Tedei says. "I do an old school model CSA. You commit to a year, I grow, and you receive what's in season. I don't supplement it with stuff from the warehouse, or the grocery store, or other farms. Once in a great while, maybe another farm has a great surplus and I'll buy something from them, but not usually. It's challenging but gratifying."
It's also important to note that Eden's Organic Garden Center brought DFW's First All-Clean, All Farmers – Market Day. "I wanted clean food and there was nothing out here. There just weren't enough organic vegetable farmers in this area." Recently Tedei's focus has shifted to concentrate on her CSA. Her garden center's market day has evolved into a boutique neighborhood market open in the mornings on the 1st and 3rd Saturday of the month. Customers can purchase their organic gardening supplies during market days or special orders direct from Tedei.
Today, Tedei is harvesting everything from potatoes, onions, melons, and pumpkins to carrots, cabbage, spicy mustard greens, to broccoli and Brussels sprouts. To achieve the best results, she's made the necessary adjustments to her environment – from transforming sandy soil by replenishing it with organic matter in the form of compost, to using a tunnel to create an ideal atmosphere for growth. "I got this tunnel with a Natural Resources Conservation Service program through the USDA and it makes a huge difference," Tedei explains. In the winter – outside of the tunnel – it could be 35 degrees, but it's still nice and warm in here. These are going to grow much more efficiently than something outside."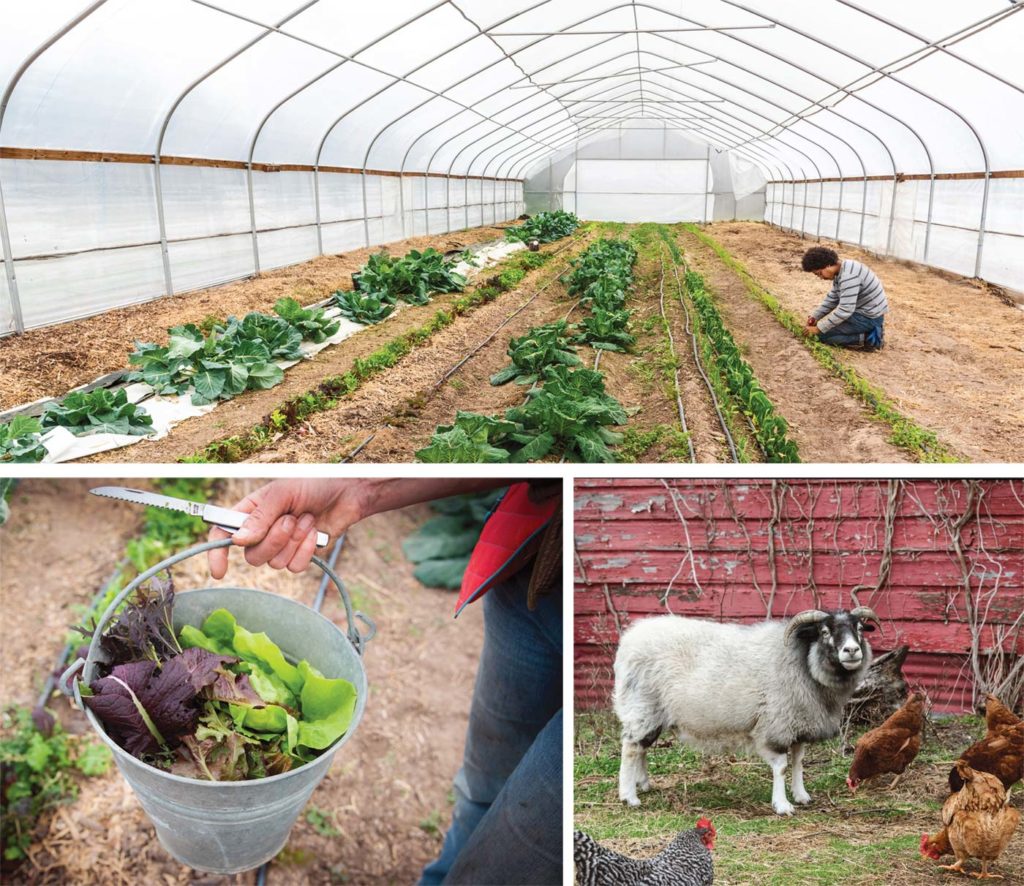 Tedei's farm also features a host of animals including free-range laying hens, roosters, horses, an Icelandic sheep named Smoke and two livestock dogs to help her look after them all. Far away from the animals are bees from Susan Pollen of the Texas Honeybee Guild. Even further back is a yurt, which makes for a nice stopping point during classes and tours that are being hosted for school students. "I like educating the kids and for them to get the farm experience."
With the pandemic in full force, things like classes and even the community garden have come to a halt. But Tedei is hoping to revive them once numbers go down and things get safer. She's also interested in selling to chefs again when the time is right. "I know they are hurting," Tedei said. "Once things get back going and their businesses pick up, I can start touching base."
However, there is one takeaway brought on by the pandemic that she hopes persists. "I hope that people don't forget what it felt like to slow down this last year," she revealed.
As far as the future of Eden's Organic Garden Center and CSA Farm, it's clear Tedei has no interest in producing for the masses. Her main goal is quality over quantity. "I couldn't do this without the support of my CSA. I can't grow for 35-40 families, chefs and for market by myself. I could probably plant it all, but I could never harvest it all. I'd rather grow for a limited number of people, still make a living, and enjoy my life – than kill myself trying to grow, harvest and sell stuff cheap. Small farming is not meant to be an assembly line. I want to be able to continue growing quality, clean food."
For more information about Eden's Organic Garden Center and CSA Farm, visit EdensOrganicGardenCenter.com