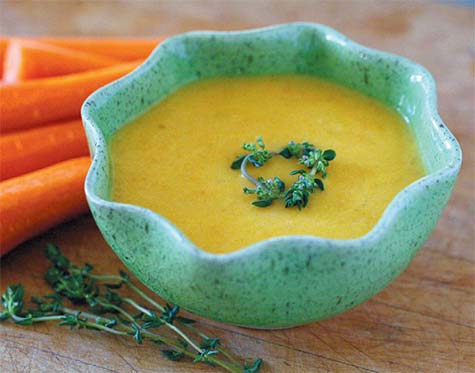 From Creating Comfort
by Genesis Women's Shelter, genesisshelter.org
Photo and Recipe Intro by Kelly Yandell, meaningofpie.com
Comfort is a word that I like. I am particularly fond of foods, like warm, creamy soups, that impart a sense of comfort. I like the way carrots taste, sweet or not. This carrot soup is notably lacking excess sweeteners and boasts one mere teaspoon of sugar. The result is just on the edge of savory. It's simple and basic yet elegant. Its beauty is enhanced by its incredibly easy preparation. I told my kids that it was a bowl of Easter bunny bait. That worked.
4-6 servings
¾ cup chopped onion (about half of a medium onion)
2 ribs of celery, chopped
2 tablespoons butter
1 pound carrots, peeled and sliced
1 white potato, cubed
1 quart low sodium chicken broth
1 splash of Tabasco
1 teaspoon Worcestershire sauce
3 bay leaves
1 teaspoon sugar
Salt and Pepper
¼ to 1 cup half & half (depending on preference)
Melt the butter in a large saucepan. Sauté the onions and celery in the butter until tender. Add the carrots, potato cubes and broth. Bring to a boil and reduce the heat to low. Add the Tabasco, Worcestershire sauce, bay leaves, sugar, salt and pepper.
Simmer, covered, for 20 to 30 minutes or until the carrots and potatoes are tender. Discard the bay leaves and process the carrot mixture with an immersion blender. If using a regular blender, do it in several batches.
Add the half & half and stir it in completely. Heat the soup until it is at your desired serving temperature. Garnish with croutons, or a drizzle of olive oil. Enjoy.