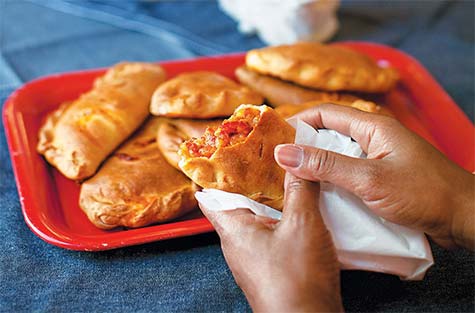 Spring is the peak season for fresh crawfish. In this recipe by Southern chef Martha Hall Foose, a cheesy crawfish filling is enveloped in tender ricotta dough. You can shape them in small party-sized turnovers or more substantially, like a calzone.
Makes 8 turnovers
DOUGH
1 cup ricotta cheese
2 large eggs
¼ cup whole milk
½ teaspoon garlic salt
3 cups unbleached all-purpose flour
4 teaspoons baking powder
FILLING
1 pound peeled crawfish tails, chopped
¾ cup diced onion
¼ pound smoked Gouda cheese, shredded (1 cup)
½ cup grated carrot (about 1 medium)
½ cup chili sauce
¼ cup diced green bell pepper
1 teaspoon Worcestershire sauce
1 large egg, beaten
MAKE THE DOUGH:
In a small bowl, mix together the ricotta, eggs, milk, and garlic salt.
In a separate medium bowl, combine the flour and baking powder. Using a fork, stir the ricotta mixture into the flour mixture to form a shaggy dough. Gather the dough together with your hands and press it into a flat disk about 8 inches in diameter. Wrap in plastic wrap and refrigerate while making the filling.
MAKE THE FILLING:
In a large bowl, combine the crawfish tails, onion, cheese, carrot, chili sauce, bell pepper, and Worcestershire sauce.
Heat the oven to 400°F. Line 2 baking sheets with parchment paper or spray with nonstick cooking spray.
Using a sharp knife, cut the dough disk into 8 wedges. Gather each wedge and shape it into a ball. Roll each ball into a 7″ to 8″ round. Place ½ cup of the filling in the center of each round. Fold the dough over the filling in the center of each round.
Fold the dough over the filling to form half-moon shapes. Using the tines of a fork, press the edges to seal. Place the turnovers on the prepared baking sheets. Brush the top of each turnover with beaten egg.
With a sharp knife, cut a small slit in the top of each turnover to let the steam escape while baking.
Bake the turnovers for 30 to 35 minutes, rotating the baking sheets from upper to lower halfway through baking to ensure even cooking.
Remove the baking sheets from the oven and transfer the turnovers to a wire rack to cool for 5 minutes before serving.
Reprinted with the permission from A Southerly Course © 2011 by Martha Foose, Clarkson Potter Publishers, an imprint of the Crown Publishing Group, a division of Random House, Inc. New York. Photographs © 2011 by Chris Granger.