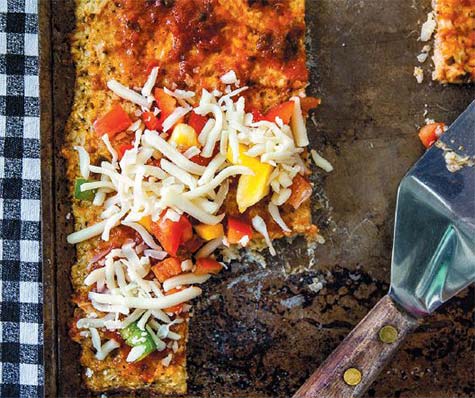 Makes one 9-12″ pizza (serves 2-3)
CRUST
½ large head of cauliflower, trimmed of leaves
1 large egg, lightly beaten
1 cup finely shredded mozzarella cheese
1 teaspoon dried oregano
½ teaspoon minced garlic
½ teaspoon onion salt
Toppings
½ cup (or more) prepared tomato-basil marinara or pizza sauce
½ cup (or more) finely shredded mozzarella
Optional Toppings, as desired.
Ms. Fry's class used red, green, & yellow bell peppers, de-seeded and trimmed of ribs, cut into small pieces, and a small amount of chopped rosemary.
Preheat the oven to 450°F. Spray a cookie sheet or pizza pan with nonstick spray or olive oil.
Prepare the crust
Using a food processor or knife, shred cauliflower into small crumbles— enough to yield 2 cups. (Set aside any extra for future use). The cauliflower should be crumbled, but not pureed. Place the crumbles in a microwave-safe bowl and microwave dry for 8 minutes. Set aside to cool.
In a bowl, combine the cooled cauliflower crumbles with egg, cheese, oregano, garlic and onion salt. Shape and flatten the mixture into a 9-12″ round and place on prepared pizza pan. Spray the crust lightly with non-stick spray or olive oil and bake for 15 minutes or until golden.
Remove the crust from the oven and turn the heat up to broil. Prepare the pizza
Spread sauce on top of the baked crust, leaving a ½-inch border around the edge. Sprinkle ¼ cup cheese on top. Add the toppings of your choice. Sprinkle the remaining cheese on top. Broil the pizza for 3 to 4 minutes or until the toppings are hot and the cheese is melted and bubbly.
Cut into slices and serve immediately.
Elizabeth Dry teaches second grade at Alex Sanger Elementary School and is Executive Director of Promise of Peace Garden in East Dallas.