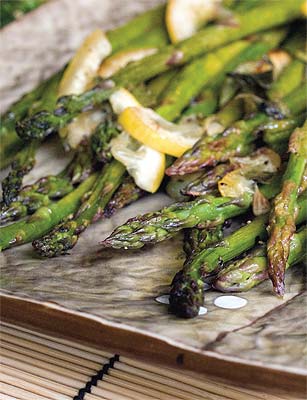 Photo by Melissa Schwartz
By Christy Morgan from Blissful Bites:
Vegan Meals That Nourish Mind, Body, and Planet
theblissfulchef.com
Serves 3 to 5
Fresh lemon is paired with asparagus and fresh oregano for a spring side dish. Since it cooks so quickly, your oven won't need to be on for long.
1 pound fresh asparagus, woody ends trimmed
2 tablespoons lemon, sliced very thin, seeds removed
1 tablespoon olive oil
2 tablespoons fresh oregano, chopped
1/2 teaspoon fennel seeds
1/2 teaspoon sea salt
1/2 teaspoon black pepper
Preheat oven to 450° F.
Combine all the ingredients in a medium bowl, making sure to completely coat all the asparagus spears with oil. Spread out evenly on a rimmed baking sheet. Roast, shaking the pan occasionally to toss, until the asparagus is tender-crisp, about 10-12 minutes.
Chef Christy Morgan is the author of BLISSFUL BITES:
VEGAN MEALS THAT NOURISH MIND, BODY AND PLANET. More information may be found at theblissfulchef.com.