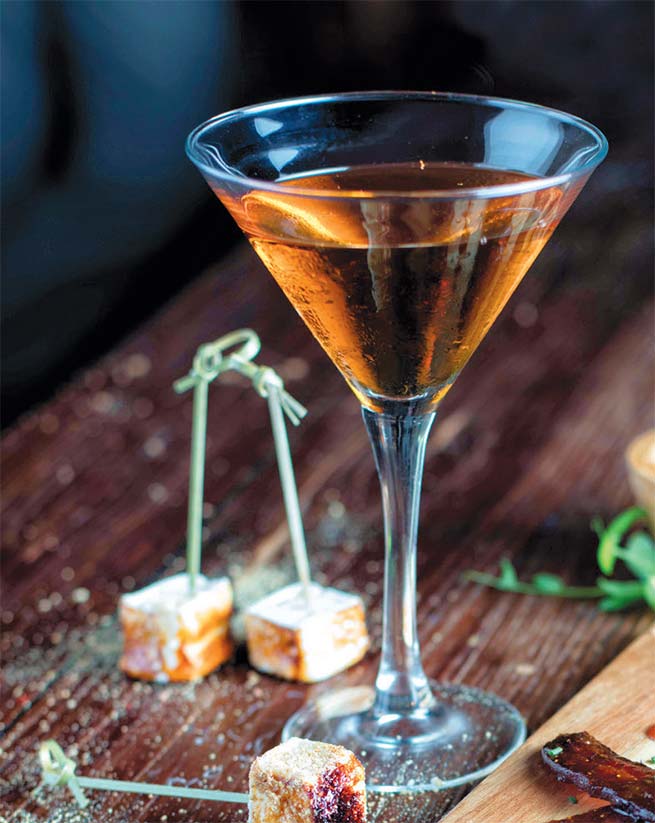 The smoky glasses are surprisingly easy if you have a kitchen blowtorch or outdoor grill.
Makes 2 cocktails
Artisan marshmallows
Graham cracker crumbs
4 ounces Texas craft whiskey, such as TX or Silver Star
2 ounce sweet vermouth
4 dashes Fee Brothers Aztec Chocolate Bitters
Ice
If you are making the Cedar-Smoked Martini Glasses, do them first. Slightly toast marshmallows over a flame on the stovetop or, if you're already grilling, over (not on) the grill. Be careful not to melt or burn the marshmallows. Immediately roll in graham cracker crumbs. Set aside.
In a mixing glass, place whiskey, vermouth and bitters. Fill the mixing glass to ¾ with ice. Stir cocktail at least 50 revolutions.
Strain into smoky martini glasses. Garnish with marshmallows speared with fancy toothpicks.
Cedar-Smoked Martini Glasses: Use a blowtorch to char a cedar plank. Or, alternatively, char the plank on your outdoor grill. When the cedar starts to smoke, remove from flame and turn your cocktail glasses upside-down over the charred area to collect the smoke in the glass.