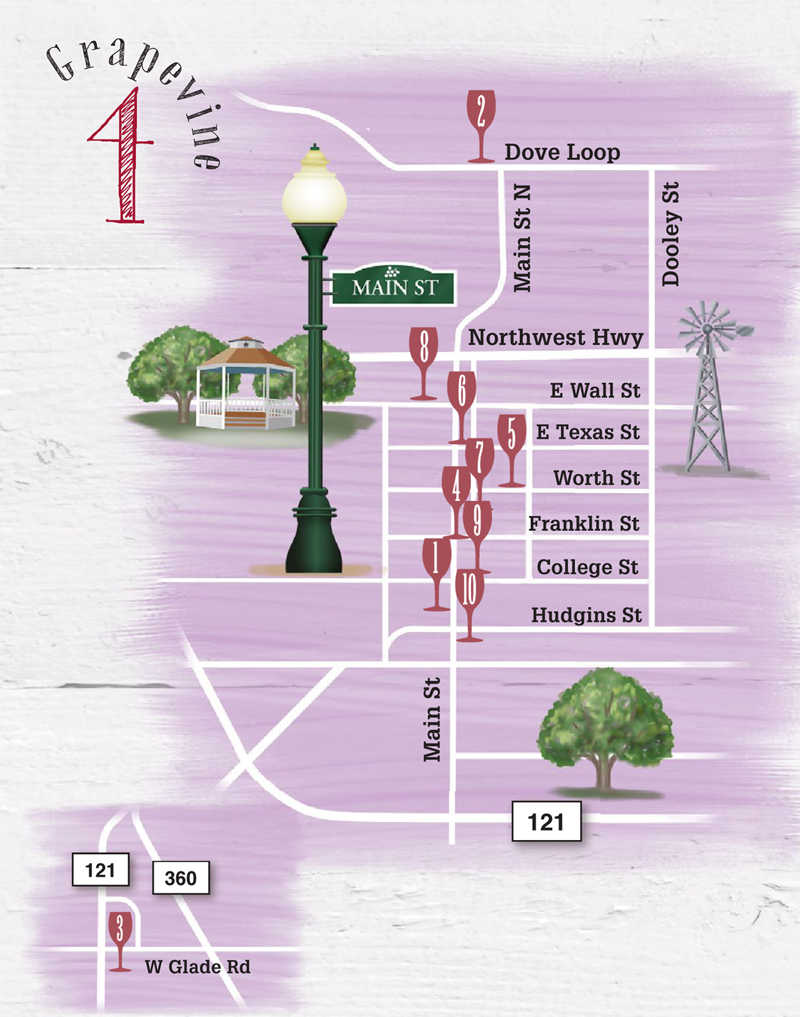 Grapevine
Except Delaney, the tasting rooms on this trail are all within strolling distance, among downtown's shops and restaurants, from Dr. Sue's Chocolate to chili king Tolbert's. More online at grapevinetexasusa.com
---
On the Trail
1 Bingham Family Vineyards
One of the High Plains' preeminent growers, the Bingham family started their own winemaking, and this tasting room provides a place to sip and sample that's closer than the Texas Panhandle. Pioneered Vermentino planting in Texas. Many award-winning wines, including Roussanne, Viognier, Trebbiano. Also Short Rows white blend.
620 S Main St., Grapevine
Mon-Thur Noon – 8pm, Fri Noon – 9pm, Sat 11am- 9pm – 682-651-8668
2 Cross Timbers Winery
Located in charming, historic Brock Family Farm house. Pretty patio. Facsimile of original barn reconstructed for events. The tasting room's best seller is a semisweet Texas blush made with a blend of High Plains grapes: Chenin Blanc, Muscat, Viognier and Ruby Cabernet. Its popular dry wines include High Plains Sangiovese and Tempranillo.
805 N Main St., Grapevine
Tue -Thur 3 -8 pm, Fri -Sat Noon -5pm, Sun 12:30 -5 pm 817-488-6789
3 Delaney Vineyards and Winery
The tasting room of this Grapevine outlier reopens June 1 after a revamp of the attractive estate facilities. Delaney's full-production winery with 125-acre vineyard is in LaMesa south of Lubbock (High Plains). 10-acre vineyard onsite. Geared to special events and private- label Texas wines, all made with Delaney grapes.
2000 Champagne Blvd., Grapevine
Tue-Sat 10am-4:30pm 817-481-5668
4 Grape Vine Springs Winery
Swanky tasting room. All grapes from Central California. Makes sweet and dry wines–your choice. Create-your own custom labels. Popular blending classes. Winery tours $25 (include a glass and two samples of wine). Ghost tours highlighting Grapevine's paranormal history. Event venue.
409 S Main St., Grapevine
Mon-Wed 11am- 7 pm, Thur 11am- 9 pm, Fri -Sat 11am-10 pm, Sun Noon -5pm 817-329-1011
5 Homestead Winery at Grapevine
One of three tasting rooms for historic Texas winery in Ivanhoe owned by Gabe and Barb Parker. 1890s Victorian house with an inviting porch just off the main drag. See Town and Country Trail for full winery description.
211 E Worth, Grapevine
Mon-Tue 11am- 6:30 pm, Wed -Thur 11am- 9:30 pm, Fri -Sat 11am-10 :30pm Sun 1- 6:30pm 817-251-9463
6 Messina Hof Grapevine Winery
Offshoot of famous Bryan winery founded in 1977 by Paul and Merrill Bonarrigo. Son Paul Mitchell Bonarrigo oversees winemaking. Weekly tasting, food pairing events. Many award-winners. Note: First Sparkling Brut made from 100% Texas Chenin Blanc. Also: Ebony Ports of Call made from estate-grown Lenoir (Best of Class, SF Chronicle Wine Competition).
201 S Main St., Grapevine (inside historic Wallis Hotel)
Sun-Tue Noon- 8 pm, Wed -Thur Noon -9pm, Fri -Sat Noon -11 pm 817-442-8463
7 Sloan & Williams Winery
Founder-winemakers Alan Kunst and Ralph Mattison Jr. pay meticulous attention to American Viticulture Areas with their Texas and California wines, Lodi Zinfandel to Texas High Plains Roussanne. Texas industrial chic tasting room. Around the corner at 112 E Texas St., they've just opened a cidery, Outlaw Cider Co.
401 S Main St., Grapevine
Mon-Thur 1-9 pm, Fri -Sat 1pm-Mid night, Sun Noon – 9pm 817-527-7867
8 Su Vino Winery
All about personalized wines with private labels. Make your own custom batch of wine–30 bottles. Su Vino makes dog rescue wines, too. Features tasting bar, appetizers, wine accessories. Offbeat and fun: Just-add-wine bread mixes. Owned by David and Chari Scott. Sip on popular white Summer Rain or Texas Roussanne.
120 S Main St., Grapevine
Tue -Sat Noon -7 pm, Sun 1-5pm 817-424-0123
9 Umbra Winery
Owners John and Debbie Wilson recently purchased eight-acre La Buena Vida Vineyards, now transforming it into Umbra Winery at La Buena Vida Vineyards Springtown production facility/event venue. Chic, European-influenced Umbra Winery tasting room in Grapevine. Umbra's wines are shifting more to Texas fruit, less California and Washington. Tapas menu.
415 S Main St., Grapevine
Sun-Tue 11 am- 9 pm, Wed -Sat 11 am -Midnight 817-421-2999
10 Wine Fusion Winery
Sleek contemporary surroundings. Strong blend-your-own component, with varietals from California, Texas and Argentina. Owners Nick and Danielle Kaufman's goal: to make wine more approachable. Think yoga and wine! Best seller: Fusion Red Blend from the Russian River Valley. Also already blended: the Wine Train, from Texas Muscat and Merlot.
603 S Main St. Suite 304, Grapevine
Sun 1-7 pm, Mon-Thur 1-9 pm, Fri Noon-Midnight, Sat 11am-Midnight 817-442-8466