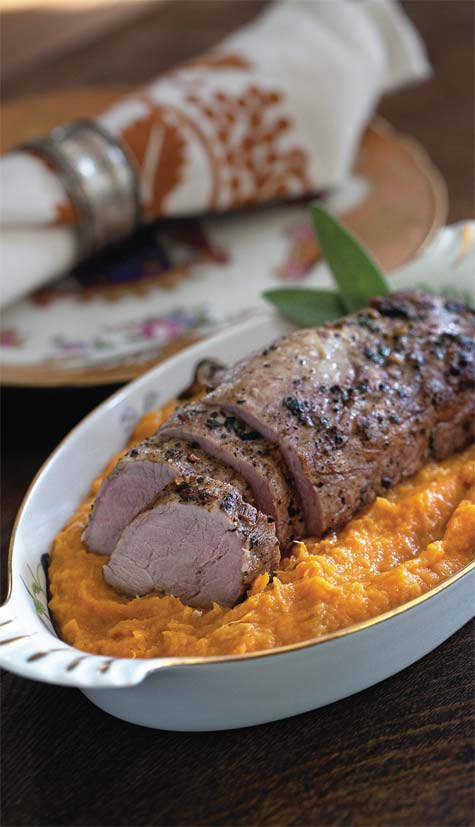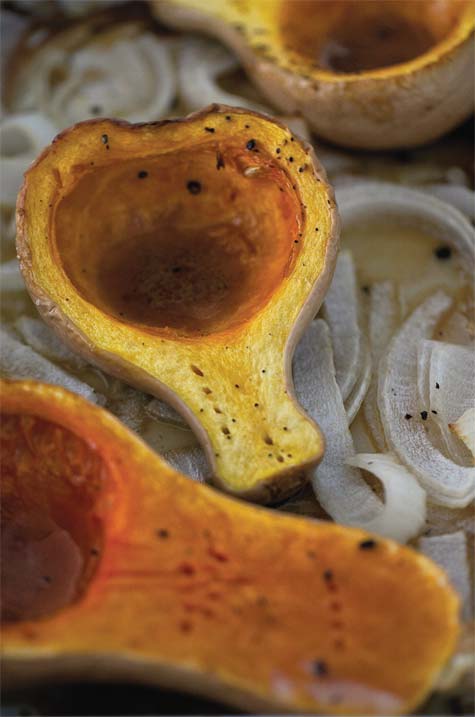 Chef Bubba Frank, The Turtle Restaurant, Photos by Kelly Yandell
Serves 4
1 butternut squash (1 small pumpkin also works)
1 medium yellow onion
¼ cup unsalted butter, melted (divided use)
¼ cup brown sugar
1½ pounds pork tenderloin
1 tablespoon olive oil
10 fresh sage leaves, pulverized (or 1 tablespoon dried sage)
2 cloves garlic, finely chopped
Salt and pepper
Garnish: A few extra sage leaves
Preheat oven to 350°F.
Cut squash in half lengthwise and scoop out all the seeds and stringy flesh with a spoon. Peel onion and slice into ½-inch strips. Place the squash and onion on a sheet pan and toss with 3 tablespoons of butter, reserving one tablespoon for later use. Sprinkle mixture with brown sugar, salt and pepper. Bake for 45-60 minutes, or until squash is soft.
While the squash and onions are cooking, heat a large oven-safe frying pan over medium heat. Rub pork with sage, garlic, salt and pepper. Add olive oil and remaining 1 tablespoon of butter to heated frying pan. Cook pork, for 1-2 minutes per side or until it side is a light golden brown. Place pan with pork in oven and cook for approximately 15-20 minutes, depending on size, or until pork reaches an internal temperature of 140°F. Remove from oven.
Remove the cooked squash and onions from the oven and prepare your purée while the pork is resting. Using a large spoon, scoop the flesh out of the squash and discard skin. Place squash and onions in a food processor and purée. Season with additional salt and pepper, if needed. If you want a sweeter purée, you can add more brown sugar. Scoop puree onto a platter. Slice pork across the grain on a bias and place on top of purée. Garnish with a few sage leaves before serving.