Recipe by Chef Nico Sanchez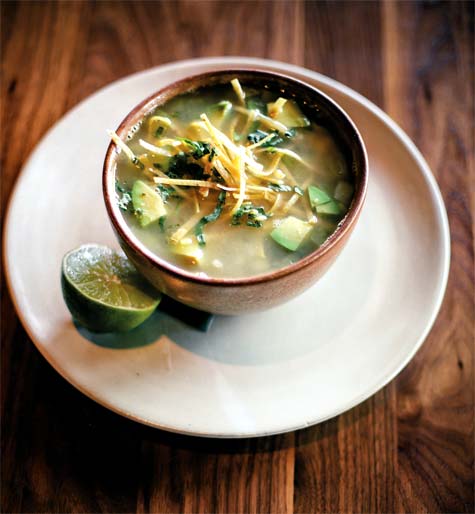 6-8 servings
For Soup
4 large chicken breasts, bone-in, skin-on (See note)
2 tablespoons salt
1 clove of garlic
1 large sprig of cilantro
½ small onion, any type
3 tablespoons Extra Virgin Olive Oil
1 cup diced white onion
1 cup diced, peeled carrots
2 cups diced, peeled chayote
1 cup diced celery ribs
1 cup fresh corn kernels
2 limes, cut in thin wheels
1 tablespoon chopped sweet basil leaves
1 tablespoon chopped fresh mint leaves
For Garnish
5 or 6 tortillas
Peanut oil for frying
1 cup shredded Chihuahua cheese (or Monterrey Jack)
1 avocado, diced
½ cup chopped cilantro leaves
1 lime, cut into wedges
Place chicken in a large pot with 1½ gallons water, salt, garlic, one sprig of cilantro and half of small onion. Bring to a boil. Reduce heat and simmer for approximately 25 minutes. After cooking, remove chicken from liquid and set aside to cool.
Strain the liquid through a fine-mesh sieve into a large cooking pot. Discard solids. This should yield about 1 gallon or 16 cups of broth.\
Remove skins from cooled chicken and shred the meat into bite-size pieces. Set meat aside and discard bones and skin.
In another large pot, warm the oil to medium-high heat and sauté the onion, carrots, chayote, celery and corn until softened, about 5 minutes (make sure they don't caramelize). Next, add the chicken broth, lime wheels, basil, mint and shredded chicken. Continue to cook for another 25 minutes or until the vegetables are tender but not over cooked.
While soup is cooking, make tortilla strips. Stack several tortillas and cut into ¼" wide strips with knife or pizza cutter. In a large frying pan, fry strips in about an inch of peanut oil over medium-high heat until crisp, about 1 minute. Remove with slotted spoon and drain.
Before serving soup, remove lime rounds with a slotted spoon and discard. Season soup to taste with salt and pepper and then ladle into individual bowls. Garnish top of soup with a mound of tortilla strips, cheese, avocado and cilantro. Place lime wedges on side plate for those who want an extra squeeze.
Note:
Though most people prefer white meat in their soup, the broth will be more flavorful if you stew a whole chicken, with dark and white meat, rather than only chicken breasts. You can also use a chicken bouillon cube to add flavor to the broth.