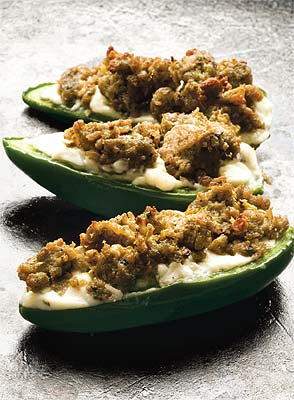 Lisa Fain from The Homesick Texan Cookbook
4 servings
We love our jalapeños in Texas and never miss a chance to eat them. When I was young, one of my favorite snacks was to hollow out a jalapeño and stuff it with cream cheese. As an adult, I've taken that simple dish a bit further by adding some tangy goat cheese and succulent, spicy chorizo to my filling as well. These are always a welcome party food, though I've been known to make a meal out of them. And since they're baked, I can tell myself that they're a spot healthier than the battered and fried versions often served.
12 medium jalapeño chiles
¼ pound chorizo, cooked and drained of excess fat
8 ounces cream cheese, room temperature
2 ounces goat cheese, room temperature
1 tablespoon chopped cilantro
1 teaspoon dried oregano
1 teaspoon ground cumin
2 cloves garlic, minced
¼ teaspoon cayenne
1 teaspoon lime zest
Salt, to taste
Preheat the broiler and line a baking sheet with foil.
Take each jalapeño and cut in half, lengthwise. With a knife or small spoon scoop out the seeds and white pith and discard.
Mix together the cooked chorizo, cream cheese, goat cheese, cilantro, oregano, cumin, garlic, cayenne, and lime zest. Adjust seasonings and add salt to taste.
Fill each of the jalapeño halves with about 2 teaspoons of the cheese filling. Place stuffed jalapeños on the sheet and place under the broiler for 8 to 10 minutes or until brown and bubbling.
NOTE: You can vary this by replacing the chorizo with cooked bacon or leftover brisket. And pimento cheese makes for a fine filling as well. For extra decadence, try wrapping them in bacon before baking as well.
From The Homesick Texan Cookbook by Lisa Fain. Copyright © 2011 Lisa Fain. Photographs by Lisa Fain. Published by Hyperion. Available wherever books are sold. All Rights Reserved.
Lisa Fain is the author of The Homesick Texan's Family Table © 2014. Published by Ten Speed Press, an imprint of Random House LLC.