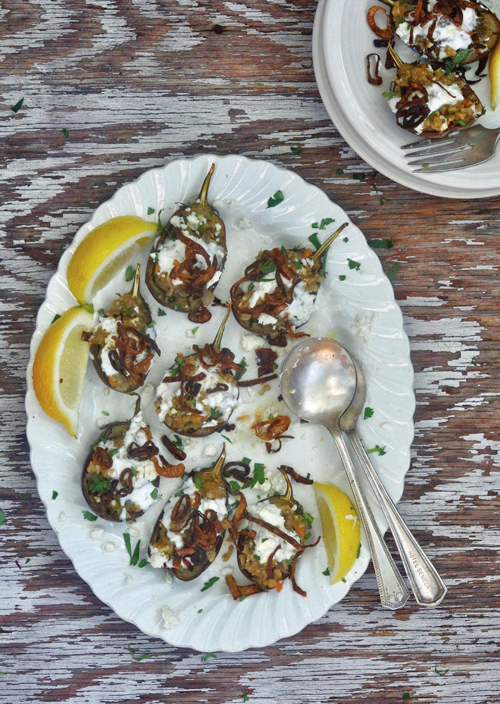 RECIPES AND PHOTOGRAPHY BY ELLISE PIERCE
If you've ever spent any time in Spain, then you know about the breezy, whenever-you're-hungry eating culture there—they're grazers, mostly, stopping in at a favorite spot for lunch, having a little bit of something, then moving on before doing the same thing again later in the day, before dinner, or as dinner. It's a loose system, one which adheres less to specific times, or even types of food, than the overall laid-back sense of the place which in some small way, has always reminded me of home—my Texas one, not my Paris one.
Especially in the summertime, when the long Texas days stretch into the night and the heat doesn't relent, adopting a slightly Spanish approach to eating makes sense—plus it works well for entertaining. Even though we've got cold air blasting indoors to keep us comfortable, I can't get my head around the idea of eating food that's sizzling hot when it's 110 degrees outside. Give me cold or give me room temperature. There's already too much heat going around.
Which totally works when you're having people over for a dinner party. If everything's been made ahead of time and can be served as is, so much the better, because you don't have to do heavy kitchen duty while your guests are in-house, and the casual vibe means people can nibble on whatever you've got laid out while they sip a slightly chilled Texas rose.
The idea is to let people come and go with smaller size plates, and to give them plenty to choose from. There will undoubtedly be vegetarians and vegans and meat eaters, too, because these days, that's how it goes, so putting cheese or anything dairy on the side when you can is a great option to make everyone happy.
It doesn't take long to prepare a seasonal, summery tapas table, and every bit of it can be done the morning of, before the heat settles into the day. A half-hour beforehand, just pull everything out and set your table—and if you're determined to grill, be my guest. I'll be inside where it's cool and mosquito-free. All of these dishes will go nicely with whatever you're in the mood to throw on the fire, from chicken thighs to flank steak.
---
STUFFED BABY EGGPLANT WITH FREEKEH, FETA AND HERBS
Makes 12 servings
12 baby eggplants
1/2 cup olive oil plus 2 tablespoons (divided use)
Sea salt and cracked pepper
1 cup diced onion
1 garlic clove, minced
4 cardamom pods
1 cinnamon stick
1 tablespoon chopped ginger
1/4 teaspoon ground cumin
1/4 teaspoon ground allspice
1 cup freekeh
1 carrot, grated
3 cups vegetable stock
4 ounces feta, crumbled, plus more for garnish
Small handful mint, chopped
Small handful cilantro, chopped
6 shallots, sliced
Canola oil
Lemon wedges
Preheat the oven to 425˚F.
Halve the baby eggplants and lay them out on a large baking sheet. Score them and brush them with the ®ˆ cup olive oil (you may not need that much). Sprinkle sea salt and pepper on top and bake until soft and cooked through, 30 to 40 minutes. Let cool and remove the flesh to a bowl.
While the eggplants are cooking, make the freekeh. Put remaining 2 tablespoons of olive oil into a medium saucepan over medium high heat. Add the onion and garlic and cook until fragrant, 5 to 10 minutes. Stir in the cardamom pods, cinnamon stick, ginger, cumin, allspice and salt and pepper to taste. Add the freekeh, grated carrot and vegetable broth, and let come to a boil. Reduce to a simmer, cover, and cook until the freekeh is done and all of the liquid has been absorbed, about 20 minutes. Let cool.
Add the cooked freekeh to the eggplant flesh, and add the crumbled feta, mint, and cilantro. Spoon this mixture into the eggplant shells.
Fry the shallots: Put them in a small saucepan with just enough canola oil to cover. Turn the heat to medium-low and let them cook until crisp, about 15 minutes. Remove and drain.
To serve, arrange the eggplants on a platter with the lemon wedges on the side, and add the feta crumbles, more herbs, and the fried shallots on top.
TIP: Fill out your tapas table with easy store-bought add-ons—a mix of black and green olives, spreadables like pestos and tapenades, slices of Manchego cheese, a baguette or two, and toasted pita chips